What to Sell on Shopify in 2023 - Tips & Ideas
18 min read
created Jul 27 2023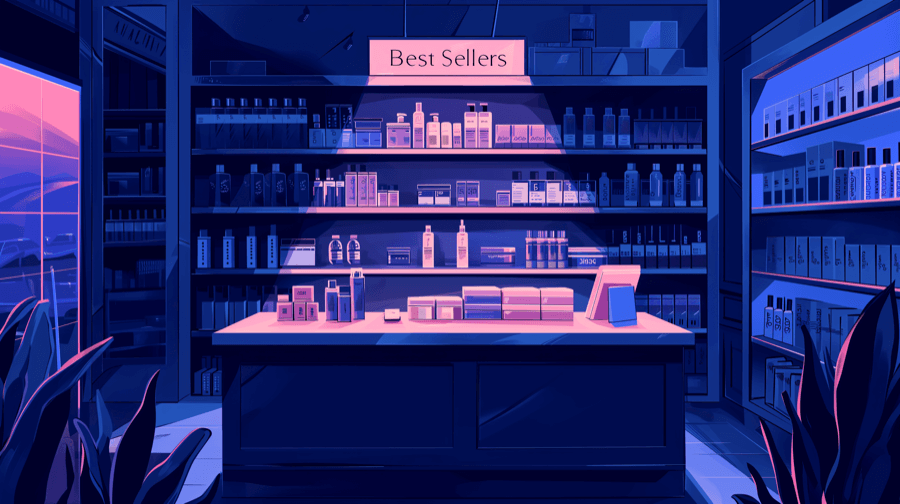 Did you know that for every $1 of revenue Shopify makes, merchants on the platform earn $40.82?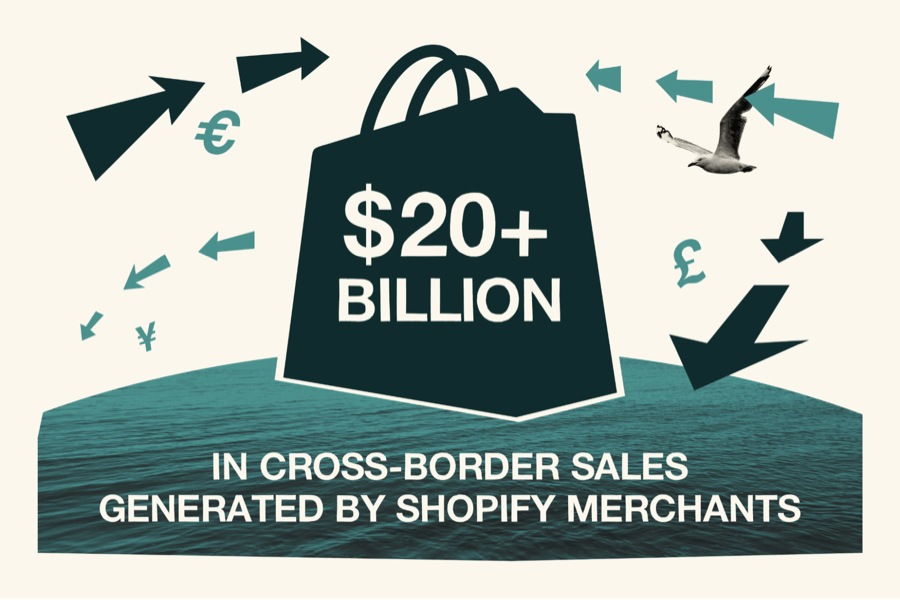 But there are no guarantees in the world of e-commerce. Running a successful Shopify store means finding the right products to sell. Products that:
Align with your brand and audience
Have sufficient market demand
Offer healthy profit margins
Get it wrong and you'll be left with a ton of unsold merchandise in your warehouse.
To help you avoid that worst-case scenario, we've rounded up some of the best types of products to sell on Shopify…
Types of Products to Sell On Shopify
What niche should you choose? Should you sell trending products or something more evergreen? Is it worth considering digital products or dropshipping? Read on to answer all those questions (and more)...
High-Profit Niches
While it's perfectly possible to run a successful Shopify store with low-margin products, there's no denying that high-profit niches offer greater flexibility and faster growth potential.
What is a "Niche Market"
A niche is a segment of a broader market that targets customers with specific preferences and needs. For example:
| | |
| --- | --- |
| Broad market | Niche market |
| Trainers | Skate shoes |
| Makeup | Vegan makeup |
| Dog food | Organic dog food |
"Niching down" allows Shopify stores to deliver more targeted messaging and gain a deeper understanding of their customers. And it also helps them avoid direct competition with huge brands targeting broader markets and audiences.
9 High-Profit Niche Ideas
Like the sound of entering a high-profit niche? Here are some of our favorite examples…
1. Organic Skincare Products
This niche caters to the growing interest in natural, cruelty-free beauty — a segment expected to be worth $21.16 billion by 2030.
Pros
Growing demand
Customers prepared to pay premium prices
Cons
High competition
Regulatory hurdles
2. Eco-Friendly Products
In a world where three-quarters of consumers expect brands to help them make greener choices, there's a major opportunity for retailers selling reusable shopping bags, solar devices, zero-waste home essentials, and other sustainable products.
Pros
Increasing consumer awareness
Growing demand
Many customers are happy to pay more for sustainable products
Cons
Can require market education
May be pricier to produce
Risk of looking hypocritical if your own business isn't run sustainably
3. Health and Wellness
The global health and wellness market is expected to reach over $8 billion by 2030 and includes products like fitness equipment, dietary supplements, and superfoods.
Pros
Consistently high demand, especially post-pandemic
Aspirational niche makes products easier to promote
Cons
Regulatory scrutiny
High competition
4. Specialty Teas and Coffees
Aside from water, tea and coffee are the world's most popular beverages (sorry, Coca-Cola fans). So there's a potentially huge audience for specialty coffee and tea products.
Pros
High margins
Loyal customer base
Huge potential audience
Cons
Requires deep knowledge of the products
Freshness concerns
5. Vegan and Gluten-Free Foods

An estimated 3% of the global population are vegan, while about 6% of Americans are gluten-intolerant, offering plenty of sales potential for vegan and gluten-free products.
Pros
Growing market, willing to pay a premium
Cons
Regulatory challenges
Needs careful handling and storage
6. High-Tech Gadgets
Revenue in the consumer electronics market is set to surpass $1 trillion in 2023, with tons of upside around smart home devices and unique phone accessories.
Pros
Attracts tech-savvy consumers
Potential for high margins
Cons
Rapid obsolescence
Potential high initial investment
Increase sales by up to 175% with product badges
Use product labels to help products sell faster.
Highlight best sellers, new arrivals, almost gone, and more.
Increase sales by up to 175% with product badges
Use product labels to help products sell faster.
Highlight best sellers, new arrivals, almost gone, and more.
See the guide
7. Personalized Items
From custom jewelry to personalized home decor, the global market for personalized gifts was worth an estimated $30 billion in 2022.
Pros
High perceived value
Potential for customer loyalty
Cons
Requires time and potentially more labor
May require customization infrastructure
8. Pet Products
Dog owners in the US spent over $440 per household on pet food in 2020.
And that's just one element of the pet product niche, along with items like toys, medication, and specialty clothing.
Pros
Pet owners are often to treat their pets
Growing market
Cons
High competition
Requires understanding of pet needs and safety
9. Gaming Gear
Gamers in the US spent an average of $23.87 per month on video games in 2022. Factor in complementary products like collectibles and peripherals and there's clearly a ton of money to be made in the gaming gear niche.
Pros
Passionate (and growing) community
High demand
Cons
Rapidly changing trends
Potential high competition
Trending Products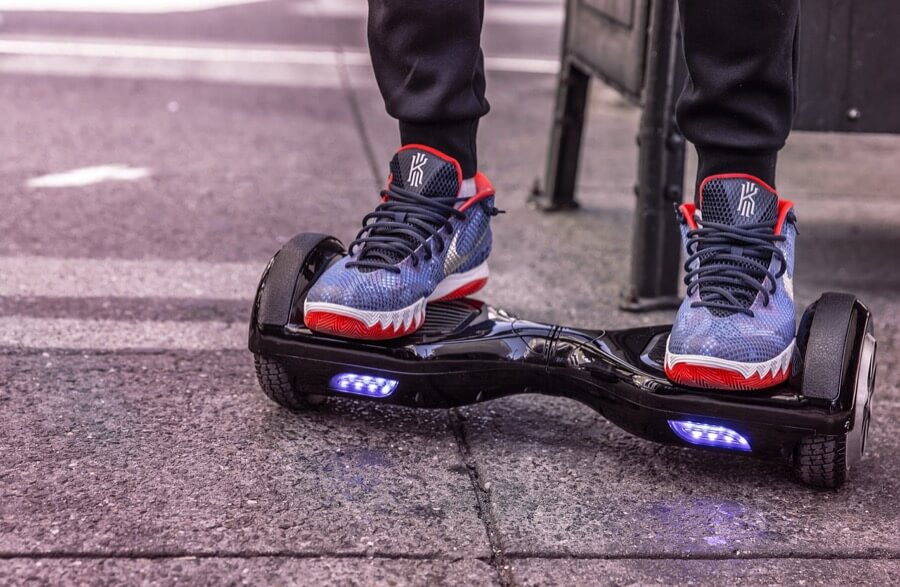 Hoverboards. Fidget spinners. Pogs.
There are countless examples of trending products that seem to burst out of nowhere and capture the imagination, generating massive demand. If you can hop on a trend at the right time, you'll be selling products faster than you can source them.
So how do you find these products?
That's the million-dollar question. Everyone's trying to do it (but most are playing catchup with existing trends).
Still, there are a few tips and tools you can use in your hunt for the next big thing:
Utilize online resources. Tools like Google Trends and Pinterest's trends forecasts can help you understand what people are currently searching and browsing for, while Exploding Topics unearths trending topics by analyzing millions of conversations, mentions, and searches.
Check trending hashtags. Instagram's Explore tab and TikTok's Trend Discovery center help you find what users are sharing on two of the most trend-led social platforms.
Analyze the market. Check out the bestsellers on e-commerce platforms like Amazon and eBay to understand what customers are buying right now.
Factor in major events and cultural shifts. Some events are so huge they completely change our purchase behavior (like how the pandemic sparked demand for face masks and hand sanitizer), so don't forget to consider them in your trends analysis.
Browse related products. Once you've identified one trending product, you can browse existing retailers to find other, related products — they could be the next big trend.
Match your product offering to popular (growing) trends and you'll be well placed to generate a ton of sales.
How to Capitalize on Trending Products
Found a trending product? Congratulations! Strike while the iron's hot by:
Acting fast. As soon as you spot a hot emerging trend, move quickly to source the products (before your rivals get there first).
Optimize your store for search. Add relevant trending keywords to meta data and product descriptions to generate organic traffic.
Work with influencers. Teaming up with an influencer in your niche can help get your trending product in front of a wider audience.
Bundle trending products. Consider selling trending products in a bundle with other, complementary products to increase conversion rates.
Leverage social media promotion. Platforms like Facebook, Instagram, TikTok, and YouTube give you an opportunity to promote trending products far and wide.
Create valuable content. Videos, blogs, and tutorials help you generate traffic and engagement by sharing tips and tricks about your trending product.
Evergreen Products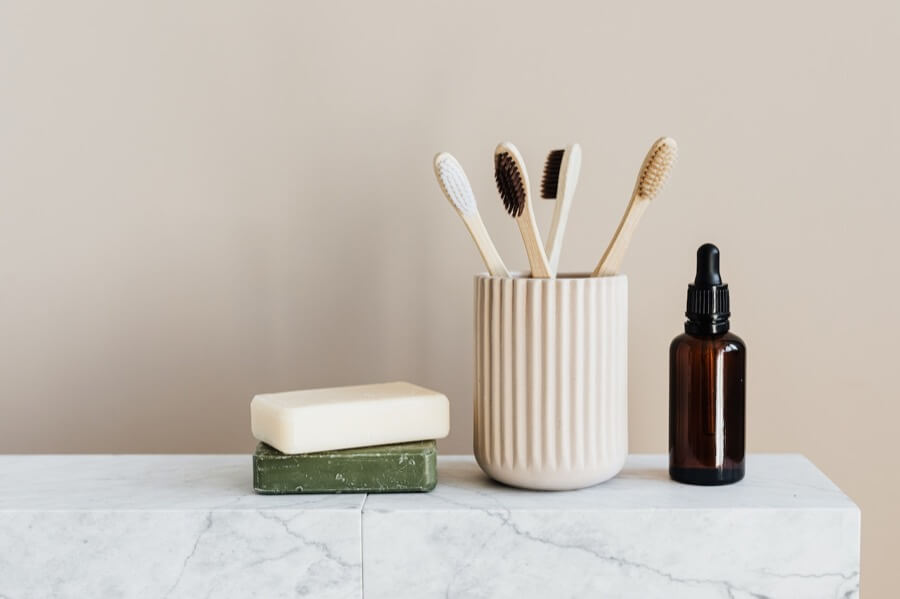 Evergreen products are the exact opposite of trending products: they might not see huge spikes in demand, but they can generate consistent, year-round sales. That makes them a safe bet for Shopify stores.
Examples of Evergreen Products to Sell On Shopify
Basic clothing items. Wardrobe staples like jeans, T-shirts, underwear, and socks are always in demand and have a vast audience.
Beauty and hygiene products. Shampoo, soap, makeup, and other beauty and hygiene products are regular purchases (ideal for driving repeat orders).
Kitchen essentials. Every household needs utensils, cookware, and appliances — and they're also popular gifts.
Baby essentials. Babies go through food, diapers, and clothes at an almost alarming rate.
Home maintenance tools. Drills; saws; hammers; these basic tools are essential for home repairs and building products, giving them broad appeal.
Books. Whether physical or digital, books are one of the world's most popular forms of entertainment and information.
Benefits and Drawbacks of Selling Evergreen Products
| | |
| --- | --- |
| Benefits | Drawbacks |
| Evergreen products are in consistent demand all year round, making them a consistent source of sales and revenue. | Because evergreen products are always in demand, competition levels are typically high, which can be particularly tough for new entrants. |
| That consistency leads to easier forecasting and inventory management. | It's often hard to differentiate stores selling evergreen products, many of which are basic, household staples. |
| Evergreen products see consistent demand, so you're not battling to keep them relevant, which often leads to lower marketing costs. | Perhaps the biggest downside is that evergreen products rarely see spikes in demand, making it tough to unlock rapid growth. |
Handmade or Unique Products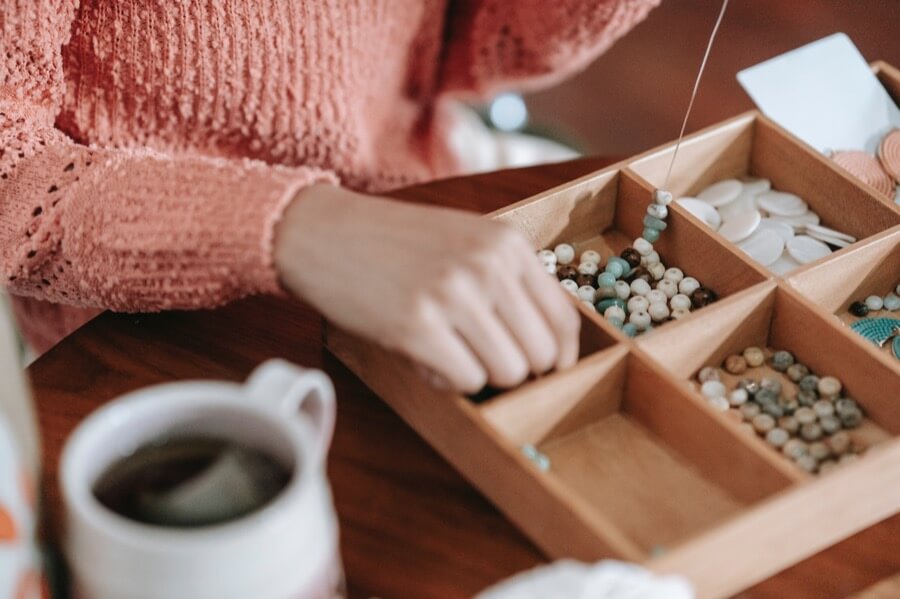 Whereas evergreen products are often generic staples, handmade and unique products are one-of-a-kind purchases — items you simply can't find anywhere else. That makes differentiation and absolute cinch (although you'll likely be targeting a far smaller audience).
The Value of Unique or Handmade Items
Unique and/or hand-crafted products offer a personal, human touch that mass-produced items simply can't compete with. And because they require higher levels of craftsmanship, they're often seen as more valuable, too. Not only that, but many handmade and unique products have a story behind them, which makes them easier to market.
Suggestions for Types of Handmade Items to Sell
Handmade jewelry. Unique products like bracelets, earrings, and necklaces often command high prices.
Artisanal food and drink products. From small-batch beers to handcrafted chocolates, gourmands love buying obscure, high-end food and drink items.
Bespoke artworks. People shopping for unique home decorations might search for unique artworks (or even commission their own creations directly from the artist).
Handmade candles or soap. These products offer a wealth of customization options, from shape and size to color and scent, widening their audience appeal.
Personalized clothing or accessories. Like custom artworks, tailor-made prints and embroideries are popular with shoppers because they're unique.
Tips on Promoting Handmade or Unique Items
Use these tactics to drive sales of unique or handmade products in your Shopify store…
Tell a story. Unlike mass-produced goods, handmade items have a unique story behind them. Share it with your audience to build a connection with your brand.
Use high-quality visuals. Because these items are unique, your audience won't automatically know what they look like, so quality visual assets — product images and videos — are essential to close the deal.
Send product samples to influencers. Influencer partnerships can be invaluable in helping your unique products reach a wider audience and building trust in your brand.
Offer customization. Add an extra layer to your marketing by allowing customers to request personalized versions of your products.
Digital Products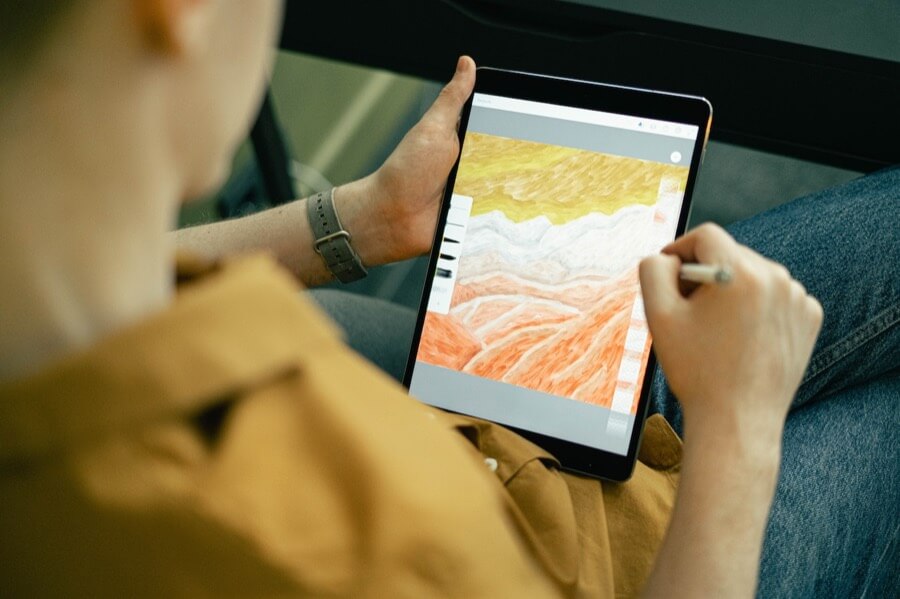 What Digital Products Are and Why They're Beneficial to Sell
From ebooks and online courses to digital art and music files, digital products are non-physical items. As such, they often have high profit margins, because once you've created the original, it costs little or nothing to duplicate it or give people access. And because there's no need for physical shipping or storage, they also have rock-bottom overheads.
Examples of Profitable Digital Products
Ebooks. From cookbooks to self-help guides to fantasy novels, ebooks appeal to a wide range of audiences, broadening your store's potential customer base.
Online courses. Got a unique skill, like speaking a foreign language or dancing the Charleston? Teach other people how to do it (while earning money) by selling an online course.
Digital art and graphic designs. Website themes, brand logos, and art prints are prime examples of viable digital art products.
Music and sound effects. Games designers, music producers, and ad agencies all need music and sound effects. So why not sell them?
Software or apps. Whether sold as a one-time purchase or an ongoing subscription, software products help people overcome specific problems or enjoy their downtime.
Pros and Cons of Selling Digital Products
| | |
| --- | --- |
| Pros | Cons |
| Overheads are low, with no need to cover manufacturing, inventory, or shipping costs. | Because digital products are comparatively easy to make and sell, competition is high — especially in popular niches. |
| Because digital products can be easily reproduced at little or no additional cost, they're highly scalable. | Given the wealth of other digital products on the market, it's also difficult to stand out from other stores and brands. |
| Sell to customers worldwide with no international time or shipping challenges. | As well as being easy to produce, digital products are easy to steal, pirate, and distribute illegally, eating into your revenue. |
Dropshipping Products
With dropshipping, retailers sell products to customers without ever handling them. Instead, orders are shipped directly from a manufacturer, a wholesaler, or another retailer, while the seller makes a profit on the difference between the wholesale and retail prices.
It's a low-risk business model with few barriers to entry, so it's not surprising that the global dropshipping market is expected to be worth over $930 billion by 2030.
Best Types of Products to Dropship
Light and/or durable items. These products are cheaper to ship and less likely to get damaged along the way.
High-markup products. Luxury items and other expensive products tend to have higher margins, leading to greater profits.
Niche products. It's easier to appeal to a dedicated niche audience than to the mass market.
Hard-to-find products. If it's tough for customers in your territory to get their hands on a specific product, you can make their lives easier (and generate a ton of sales) by finding it for them.
Trending or novel products: Target impulse buyers by promoting the latest trending products in your niche.
Pros and Cons of Dropshipping
| | |
| --- | --- |
| Pros | Cons |
| With no need to invest in inventory or logistics, startup costs are super low. | Suppliers take a chunk of the profits, which means dropshipping margins are often pretty low. |
| Dropshipping gives you the flexibility to run your business from anywhere and sell a broad range of products. | With no control over product quality or shipping, you could end up with a bunch of unhappy customers through no fault of your own. |
| Because you never actually buy inventory yourself, there's minimal risk from unsold products. | Competition is high, because there's little way to prevent other dropshippers selling similar (or identical) products to yours. |
Using Tools to Decide What to Sell
Fortunately, you don't need to base your product decisions on gut feeling alone, because there are plenty of tools out there to help you unearth your next bestseller. Here are some of our favorites:
Shopify Learn
Shopify Learn offers free on-demand online training on various topics, including market research and product selection.

Useful courses and lessons include:
All you need to do to access these valuable resources is to create a (free) Shopify Learning account.
Shopify's Best-Selling Sort Feature
Shopify has a lesser-known, hidden feature that allows you to see any store's best-selling products.
In other words, you can build a list of competitors, and as long as their stores are powered by Shopify, you'll instantly be able to find where most of their sales are coming from.
Useful, huh?
We explain how to do it in our guide on how to find the best selling products on any Shopify store.
Amazon Best Sellers
Amazon is the world's biggest e-commerce marketplace, offering products across countless niches — so if something sells well on Amazon, there's a good chance it'll fly off the shelves elsewhere, too.
Helpfully, Amazon lets you see its most popular products based on sales via the frequently updated Amazon Best Sellers page: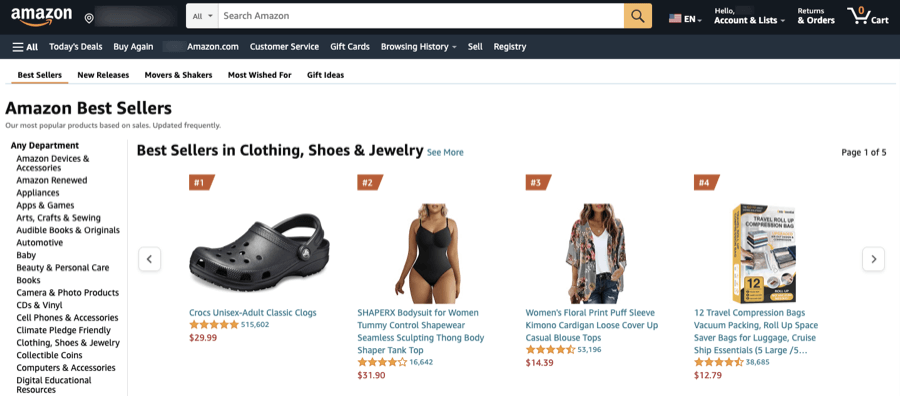 Use it to find the biggest sellers across 40+ categories, including:
Clothing, shoes & jewelry
Home & kitchen
Electronics
Toys & games
Sports & outdoors
Unique finds
Google Trends
Google Trends is a superb (and totally free) tool that helps you track the popularity of any keyword or topic over time based on Google's search data.
So once you've identified a potential bestseller, you can plug it into Google Trends to see whether it's on the way up — or if it's already crested the wave. And you can also use it to assess multiple products to see which is generating the most search interest: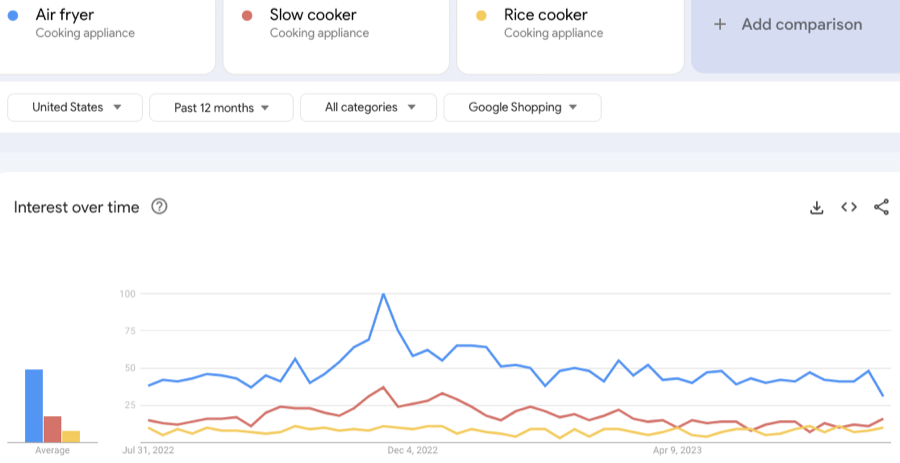 Tips on Choosing What to Sell
Not sure whether a product is the right fit for your store or audience? Use these best practices to make smarter product selection decisions…
Understanding Your Passion and Interests
It's always good to sell products or services that you genuinely care about. Not only will it help keep you engaged in running your Shopify store, but it also means you'll likely have some insider knowledge that'll help your marketing and customer support efforts.
Evaluating Product Profitability
While running a Shopify store can be fun, most store owners are in it for the money. So it's essential to consider the potential profitability of a product before adding it to your inventory.
Think about the cost of goods sold — the sum of all costs for creating a product, including labor, materials, and overheads. Then analyze all other costs, from marketing to taxes to Shopify fees.
Finally, think about your potential volume of sales. It's possible for high-volume, low-cost products to generate equal or higher profit margins compared to low-volume, high-cost alternatives.
Consideration of Shipping and Handling Aspects
You should also factor in the size and weight of your product. The heavier and bulkier it is, the more expensive it'll be to store and ship — thereby eating into your profit margins.
Speaking of shipping, timing is also important. If you're dropshipping products from the other side of the world, they could easily take a week or more to arrive, and those slow shipping speeds could put off prospective customers.
Fragility is another key factor. Sure, there might be a huge markup on those knockoff Ming vases you've sourced, but they're highly susceptible to being damaged in transit, so you'll likely be hit with a bunch of refunds and exchanges.
Conclusion
Smart product selection starts with a deep understanding of your market and audience.
You need to know what your current and future customers want and how much they're prepared to pay for it.
There's certainly no shortage of options. From trending products to handmade goods to high-ticket items to online sources, you can sell (almost) anything on Shopify.
Once you've found the right product, check out our 25 tips for increasing Shopify conversion rates to help you turn store visitors into paying customers!
Boost your Shopify sales by up to 175% automatically with Flair
Highlight products with badges
Promote sales with banners & countdowns
Automate with conditions and scheduling
Boost your Shopify sales by up to 175% automatically with Flair
Highlight products with badges
Promote sales with banners & countdowns
Automate with conditions and scheduling
Try Flair for FREE
Other FAQs
Can I Sell Anything on Shopify?
You can sell almost anything on Shopify, apart from products on the platform's list of forbidden items (see below)….
What Should You Not Sell on Shopify?
Shopify prohibits the sale of certain items, including:
Investment and credit services
Money and legal services
Virtual currency or stored value
Sexually oriented items
Counterfeit or unauthorized goods
Gambling products or services
Intellectual property or proprietary rights infringement
Regulated or illegal products or services
Drug paraphernalia
Multi-level marketing schemes
Pseudo pharmaceuticals
Substances designed to mimic illegal drugs
Aside From Selling, What Else Can I Do With Shopify?
Shopify is, first and foremost, an e-commerce platform geared toward selling products and services. But you can also use it for various other purposes, such as:
Build a website
Manage store inventory
Run your company blog
Take card payments
How Can You Sell Services on Shopify?
Selling services on Shopify is no different to selling physical products. However, when adding a service to your store, be sure to specify that it is a service so no shipping charges apply.
Can I Sell Online Courses on Shopify?
Yes, you can sell online courses on Shopify as digital products. However, you'll likely need to use an integration or plugin with a learning management system like LearnWorlds, Teachable, or Thinkific to deliver the course content.