21 Game-Changing Online Promotions for eCommerce Success
12 min read
created Jun 29 2023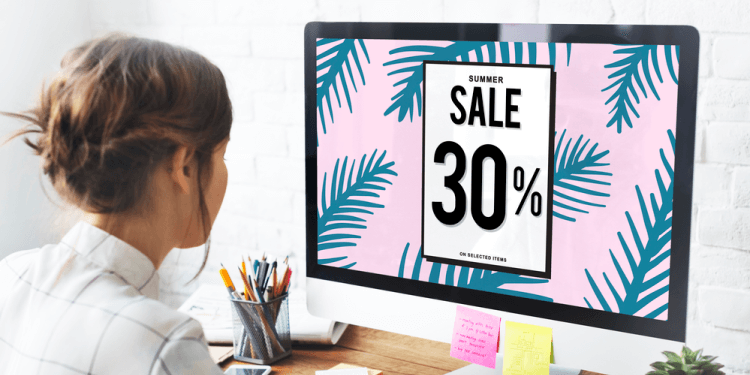 Promotions are an effective strategy for ecommerce stores looking to grow their customer base or increase sales for a specific category or product, as 70% of consumers agree that promotions sometimes encourage them to try something they wouldn't typically purchase.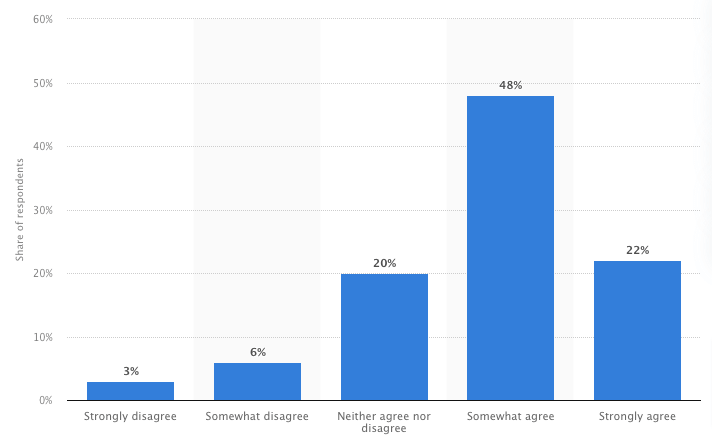 Percentage of consumers who agree with the statement: "A promotion sometimes encourages me to try something I wouldn't normally buy"
But not all promotions are a natural fit for every ecommerce store.
A company selling luxury handbags might not want to cheapen its brand by running a sale, while a discount furniture retailer may not have high enough margins to provide free shipping on bulky products like wardrobes and couches.
Online Promotion Ideas
In short, choosing the best promotion for your brand and audience is crucial. To help you out, we've compiled 21 high-converting promotion examples (as well as offering a few pointers on how to create an effective promotion strategy)...
Guarantee Price Matches
Consumers are understandably eager to shop around for the best possible deal, with 96% saying they plan to compare prices before making purchase decisions. Two-thirds do so via searching on Google, while one in four use mobile apps to compare prices and hunt for discounts.
That's why it makes sense for ecommerce stores to run price-guarantee promotions, reassuring would-be customers that even if they find a cheaper deal elsewhere, you'll match it.
Offer Seasonal Deals
Seasonal promotions are about increasing conversions by aligning your messaging with current consumer preferences. For instance, a store selling flowers and chocolates would hope to drive a ton of sales by running a pre-Valentine's Day sale.
Offer Free Shipping
Your shipping policy isn't just about explaining how you get products to customers; it's become a major selling point. In fact, "delivery speed" and "delivery cost" are the most important factors consumers consider when deciding to shop online.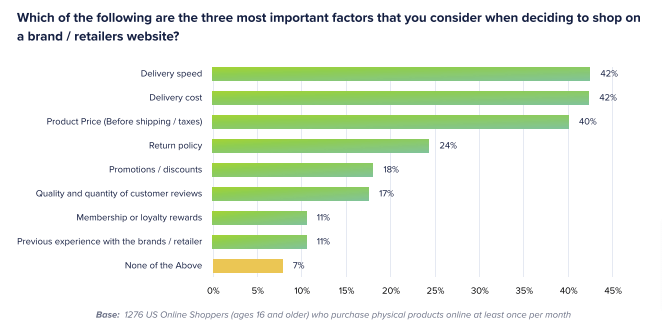 If your policy doesn't meet expectations, you're going to see a high rate of browse and cart abandonments.
So it stands to reason that if you offer free shipping — even for a limited period — you'll see higher conversion rates. You might also increase your average order value and encourage upsells and cross-sells by limiting free shipping to orders over a certain price.
Give Free Samples
You won't be shocked to learn that consumers like receiving free stuff.
But you might be surprised to find out just how impactful this promotional strategy can be.
According to Brand Connections, an impressive 81% of consumers find free product sampling more impactful than other marketing tactics, while three-fourths have purchased a new product after trying a sample.
Free samples also help retailers tap into valuable word-of-mouth marketing, with two-thirds of shoppers saying they've told other people about a product they discovered through sampling.
Buy One, Get One Free Promotions
According to a study published in the Journal of Business Research, consumers tend to choose buy one, get one (BOGO) deals over price reductions — even when the two promotions offer the same value of savings.
Running a BOGO promotion on two in-demand products for a limited period is a highly effective way to create urgency in your messaging, which can improve conversion rates and sales.
Offer Lifestyle Discounts
Lifestyle discounts are promotions that are exclusively available to people in certain demographics or professions (typically associated with an ID), such as:
Students
Veterans
Military personnel
Healthcare workers
Seniors
They're a fantastic way to boost awareness and sales among those specific demographics. For instance, one study found that members of the armed forces are 22% more likely to support brands offering military discounts.
Use Cashback Promotions
Cashback promos reduce the risk of consumers suffering "buyer's remorse" by rewarding them for their purchase. Not only that, but research shows that 81% of consumers are more likely to buy from online stores that offer rewards or cashback on purchases.
Use Loyalty Program Promotions
Loyalty programs are more of a long-play promotion.
They might not drive an immediate uptick in sales, but they can help you convert more first-time buyers into repeat customers — and repeat customers into consistent high spenders.
Indeed, research from McKinsey reveals that the average active loyalty program member spends 10% more than enrolled (but inactive) customers, while the most engaged members — redeemers — spend 25% more on average.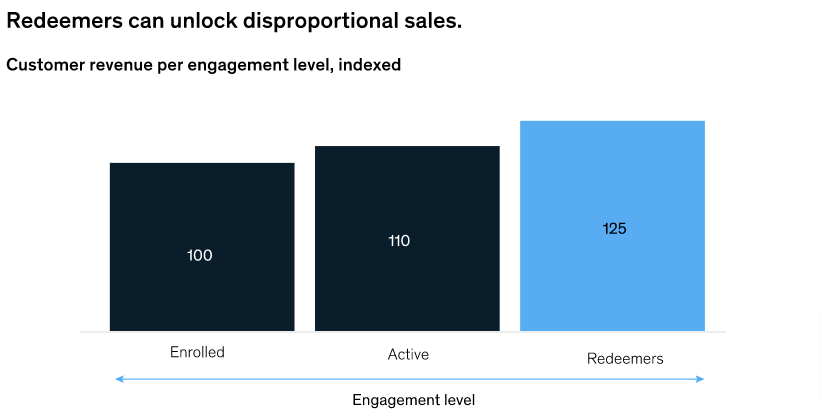 Offer Referral Discounts
Referral schemes typically involve rewarding existing customers for referring new customers to your store. Often, the new customer gets a discount too.
Not only are these promotions an excellent way to attract more valuable customers, with research revealing that referred customers:
Generate higher profit margins
Are more loyal
Show a higher customer lifetime value
Social Media Contests and Giveaways
Competitions on social media often prompt followers to share a brand's post or tag a certain number of people in the comments in return for entry into a prize draw.
That makes them a comparatively low-cost way to expand your reach and connect with a bunch of potential new customers.
Discount Vouchers and Coupons
Vouchers and coupons are two of the most popular promotional tactics for ecommerce stores because they're so flexible — you can offer them through your website, marketing emails, direct mailers, social media channels, and more.
They're a great way to drive impulse purchases, with two-thirds of consumers admitting they've made an unplanned purchase based solely on finding a coupon or discount.
What's more, they can help boost your average order value, given that online shoppers who use coupons spend 24% more than shoppers without coupons.
Run Free Gift Promotions
There are a couple ways to run free gift promotions.
The first, and most obvious, approach is to offer a gift to customers who spend a certain amount or purchase a particular product.
However, a slight tweak to your messaging can make this strategy even more effective. Research published in the International Journal of Research in Marketing found that when the customer's target product (i.e. the item they originally planned to purchase) is offered as a free gift alongside a different product, the shopper in question feels lucky — making them more likely to buy.
In other words, positioning one of your best-sellers as a free gift could increase your conversion rates.
Increase sales by up to 175% with product badges
Use product labels to help products sell faster.
Highlight best sellers, new arrivals, almost gone, and more.
Increase sales by up to 175% with product badges
Use product labels to help products sell faster.
Highlight best sellers, new arrivals, almost gone, and more.
See the guide
Combine Bestsellers With Slower-Moving Products
In a similar vein, bundling your most desirable products with less popular items can persuade customers that they're getting a fantastic deal, helping you close the deal.
This strategy also has a second, less obvious benefit: by encouraging sales of slower-moving products, it reduces the risk of you being stuck with a bunch of dead stock gathering dust in your warehouse.
Introduce a Special One-Day Birthday Offer
Personalized promotions are a superb way to drive sales, with 91% of consumers saying they're more likely to buy from brands that recognize them, remember them, and provide them with relevant offers.
And it doesn't get much more personal than offering customers a special discount on their birthday.
Evidence indicates that shoppers enjoy personalized birthday discounts, as birthday-triggered messages deliver an average click-through rate of 16.4%. For context, Campaign Monitor says anything from 2% – 5% is a "good" email click-through rate.
Set Up an Affiliate Program
In the US alone, affiliate spending was expected to exceed $8 billion in 2022 — more than four times the figure from 2010.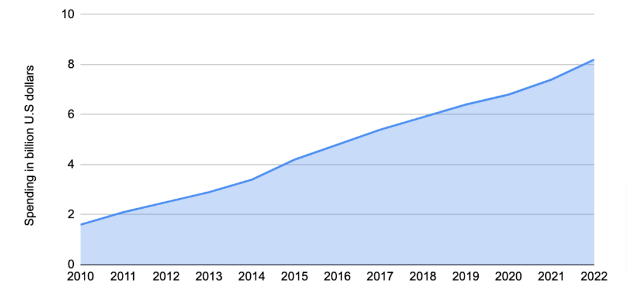 Why? Because affiliate marketing is a simple and effective way to get your product in front of new audiences.
As an advertiser, you pay affiliates — like bloggers, YouTubers, and social media influencers — to promote your products. When a customer clicks a product link in their content, the affiliate earns a commission of the sale, typically around 5% – 10%.
Pro tip: Consider offering affiliate-only discounts to help your affiliate partners send more referrals your way.
Sell on Multiple Platforms
Different people prefer shopping on different platforms. For instance, Amazon Prime subscribers might favor Amazon for the free shipping, while shoppers searching for vintage products might prefer a dedicated marketplace like Etsy. So listing your product on multiple platforms exposes it to more potential buyers, increasing your reach and potential sales.
Accept Payment in Installments
Buy now, pay later deals (BNPL) are proving popular with consumers.
According to SurveyMonkey, 44% of users prefer BNPL services over credit card purchases, while 51% are more likely to buy from websites offering buy now, pay later options.
Interestingly, shoppers don't just want to pay in installments when making big-ticket purchases.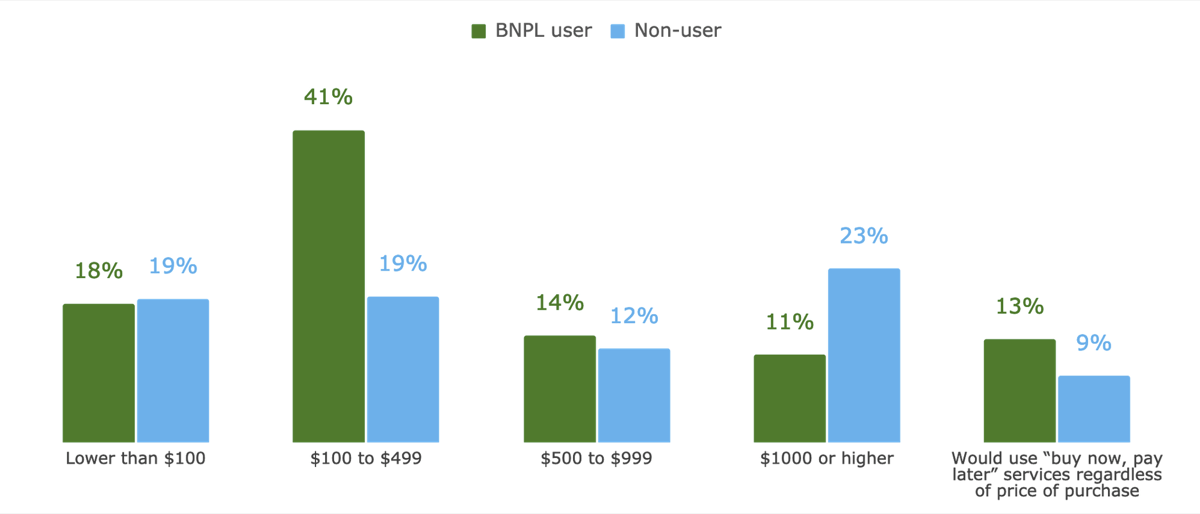 One in five would use BNPL for transactions of <$100, while one in eight current BNPL users would buy now and pay later regardless of the purchase price.
Set Up Automated Purchases
Sure, automated purchases aren't an option for all online retailers. If you sell mattresses or high-end tech, most shoppers won't want them delivered every month. But for fast-moving consumer goods brands, automated purchases are one of the most effective ways to increase repeat orders and boost customer lifetime value.
Offer a Newsletter Signup Discount
Given that email marketing delivers an average return of $36 for every $1 spent, it's definitely in your best interests to grow your newsletter list. That way, you can capture valuable customer information — name, contact details, birthdays, product preferences — and reach out to them with targeted promotions.
Given the value of email marketing, consider offering a discount for customers who sign up to your list. For example, watch brand MVMT uses discounts in on-site popups to encourage newsletter signups:
How to Make an Online Promotion Successful
By this point, you should have plenty of ideas for your next promotion. Now, we'll talk you through some general best practices to ensure your campaign delivers the desired results…
Prominently Display Your Promotion on the Homepage
Obvious as it sounds, promotions won't work if no one knows they exist.
For that reason, it's best to display promotional messaging in prominent spots of your website, especially your homepage.
Eyewear brand Warby Parker clearly understands this, adding a discount banner at the top of its homepage:

Optimize Your Product and Category Pages
But advertising your latest promotion on your homepage isn't enough. Prospective customers might enter your site through a category page, or even land directly on a product page. So those pages also need to be optimized for promotional messaging.
Apparel brand Everlane adds a wealth of promo information to its product pages, from its buy now, pay later offering…

…to free shipping over a certain price point:

Display a Countdown Timer to Promote Urgency
If customers know a promotion is ending soon, they feel a sense of urgency, which makes them more likely to buy.
To guarantee that shoppers know the clock's ticking on your latest sale, add a countdown timer to your site, like this example from made-to-order clothing brand Fame and Partners:

Make It Super Easy to Participate
To drive the highest-possible uptake in your promotion, it should be:
Easy to get involved
Attractive enough to be worth the effort
Customers might be prepared to jump through a couple hoops if you're offering a huge discount on a highly desirable product. But generally speaking, it's best to keep things simple.
Get People Sharing Photos
Want to increase social media engagement with your promotion? Try prompting your audience to share images, just like GoPro does with its regular photography competitions.
Two-thirds of consumers say that when brands they follow share user-generated content, they feel more inclined to share content about the brand or its products. So this approach could help you reach a far wider audience.
Make Your Promotions Mobile-Friendly
According to StatCounter, just over half of US browsing sessions take place on mobile devices.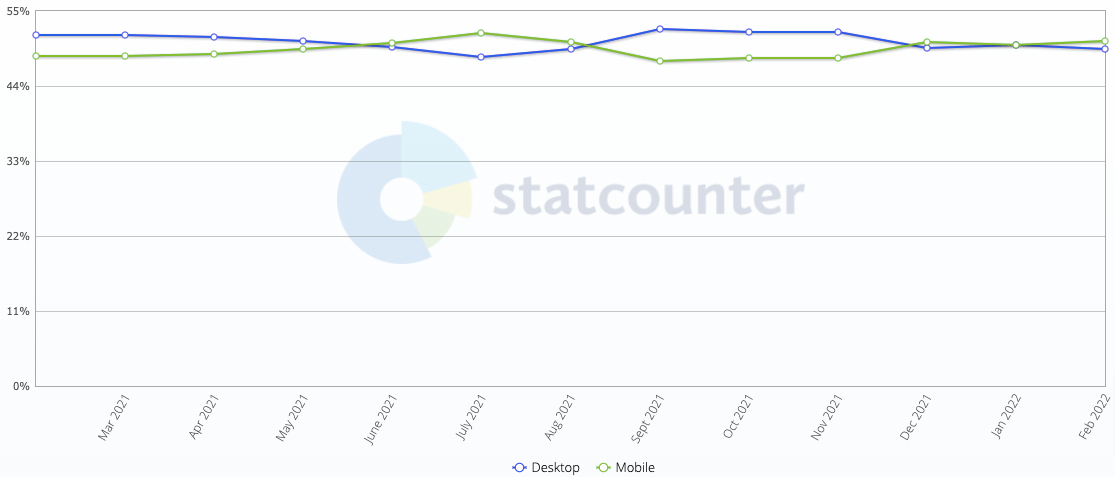 So it's essential your promotions are mobile-friendly. That could include:
Adding QR codes to coupons
Sharing promotions via SMS
Displaying promotions in mobile app banners
Sending promotions through in-app messages
Using push notifications
Have Your Customers and Staff Seed the Promotion
The more people see your promotion, the higher your uptake will be.
For that reason, encourage customers (and staff) to share news about your latest sale or discount through social media. Make life easy for them by creating prewritten messages and accompanying images for their posts.
Use Paid Media to Supercharge the Promotion
It goes without saying that paid social ads (generally) reach more people than organic posts, helping you get more eyes on your latest promotion. For instance, Discount Tire uses Facebook and Instagram ads to raise awareness of its free tire safety inspections:
Final Thoughts
Boost your Shopify sales by up to 175% automatically with Flair
Highlight products with badges
Promote sales with banners & countdowns
Automate with conditions and scheduling
Boost your Shopify sales by up to 175% automatically with Flair
Highlight products with badges
Promote sales with banners & countdowns
Automate with conditions and scheduling
Try Flair for FREE
Promotions are an effective way to increase your conversion rate.
But they can also eat into your margins. And given that 38% of consumers say running constant sales makes brands look cheap and unfashionable, you can't afford to rely solely on promos to generate sales.
Fortunately, there are lots of ways to bring in customers without resorting to discounts or free gifts. Find out more in our guide to increasing Shopify conversion rates.