How Does Shopify Work & What Is It? Get Started Guide
17 min read
created Jun 30 2023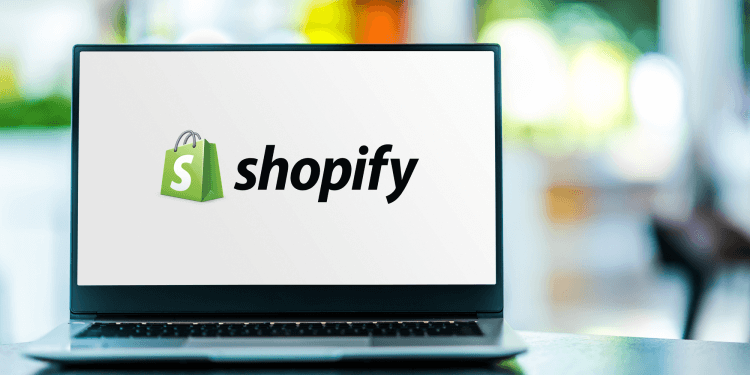 Shopify is one of the world's leading e-commerce software platforms, with Shopify merchants generating almost $50 billion in sales during the first quarter of 2023 alone. It's especially popular among smaller e-commerce retailers, who love the platform's affordability, ease of use, and ability to scale with their businesses.
But is it a good fit for your store?
To help answer that question, we've written this ultimate guide to Shopify, where we'll explain:
How Shopify works
How much Shopify costs
The pros and cons of Shopify
What you can sell on Shopify
How to get started as a Shopify merchant
What Is Shopify?
Shopify is a software tool that helps millions of merchants in over 175 countries build and run online stores. To date, Shopify has generated more than $444 billion in global economic activity, and it represents 10% of all e-commerce in the US.
The platform's functionality allows users to leverage multiple sales channels, including:
Websites
In-person sales
Email marketing
Social platforms like Instagram and TikTok
E-commerce marketplaces like Amazon and Etsy
It also offers a suite of analytics tools to help merchants better understand customer behavior and boost conversion rates.
How Does Shopify Work?
Shopify works by bringing together all your customers, products, operational tasks, and sales channels into a single, Cloud-based hub, allowing you to access them from any internet-connected device.
Key Features
Shopify offers a suite of tools to help merchants grow their online presence, reach more customers, generate sales, and fulfill orders. Key features include:
Website Builder: Allows Shopify customers to build customized e-commerce websites without requiring any technical skills.
Support for Multiple Sales Channels: Merchants can sell physical and/or digital products through websites, mobile, social media, online marketplaces, and even in-person using Shopify's point-of-sale app.
Payment Gateway: Shopify Payments allows retailers to take customer payments without integrating a third-party payment-processing tool. Shopify also integrates with other payment gateways, including PayPal and Stripe.
Integrations: Shopify's integrations extend way beyond taking payments, allowing you to connect tools and systems like Intuit Quickbooks, Netsuite, and SAP.
App Store: The Shopify App Store offers 8,000+ apps, covering everything from sourcing products to customizing your store's appearance and functionality.
Inventory Management: Users can keep track of stock levels and track their inventory across multiple physical stores and warehouses.
Shipping: With Shopify, you can offer various shipping options, set your own rates, print shipping labels, and track shipment progress.
Analytics: Merchants can access 60+ reports to track store performance, measure sales across multiple channels, and better understand their most valuable customers.
Marketing: Shopify users can leverage a wealth of marketing tools to grow their audiences and drive sales, from email newsletters and social integrations to discount codes and free shipping.
Shopify Pricing
Whether you're a one-person startup or a multinational retail giant, Shopify offers a price plan to suit your needs. Here's an overview of its different plans, price points, and features:
| | | |
| --- | --- | --- |
| Plan | Price | Features |
| Shopify Starter | $5/month | Sell products through social media platforms and messaging apps. |
| Basic Shopify | $39/month ($29/month with annual billing) | Build your store, process payments, and ship products. Includes basic reports and two staff accounts. |
| Shopify | $105/month ($79/month with annual billing) | Everything in Basic Shopify, but with pro-grade reporting, up to five staff accounts, and cheaper sales fees. |
| Advanced Shopify | $399/month ($299/month with annual billing) | Everything in Shopify, along with custom reporting, lower transaction fees, and up to 15 staff accounts. |
| Shopify Plus | $2,000+/month (custom pricing) | A custom solution for high-volume e-commerce businesses (see next section for more details). |
What is Shopify Plus?
Shopify Plus is targeted at large online retailers — including wholesalers and global retail businesses — generating $500,000+ in annual sales, with prices starting at $2,000/month (or 0.25% of sales volumes for over $800,000 in monthly revenue). It's used by a host of big e-commerce brands, such as Allbirds, Brooklinen, and Knix.
Like other Shopify plans, it provides a simple, user-friendly interface. But it offers access to advanced tools that aren't available to all Shopify customers, including Shopify Flow, which automates essential processes and tasks across your apps and Shopify store. Shopify Plus subscribers also get 24/7 priority technical support through email, live chat, and phone.
What Can I Sell On Shopify?
Shopify merchants can sell almost any physical, digital, or drop-shipped products.
When Shopgram crawled 700,000+ Shopify stores to extract and categorize their products, it discovered that the most common product categories were:
Clothing
Jewelry & watches
Home & garden
Fashion accessories
Health & beauty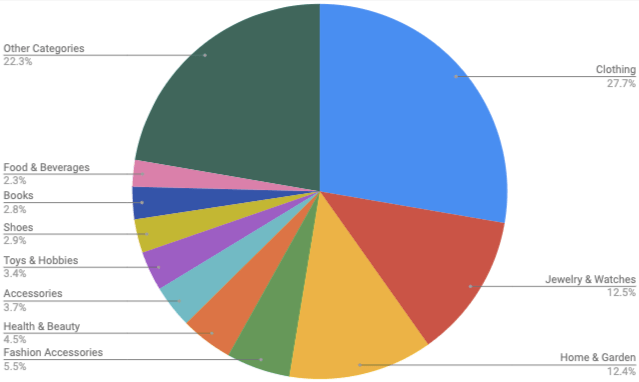 Of course, those are far from the only products sold by Shopify stores. Handcrafted goods, outdoors gear, ebooks, gift cards — all of those (and more besides) are viable options for Shopify merchants.
However, there are a few product categories Shopify doesn't allow you to sell, including (but not limited to):
Alcohol
Tobacco and e-cigarettes
Fireworks
Drugs
Video game currency or credits
Firearms and weapons
Still, it's worth noting that Shopify's list of prohibited products is subject to change. For instance, US-based stores can now sell CBD products (although they can't currently use Shopify Payments). While it's hard to see Shopify branching out into drugs or fireworks anytime soon, it's worth checking Shopify's Acceptable Use Policy before you start building your e-commerce store.
Pros & Cons Of Using Shopify
Not sure whether Shopify is the right platform for your e-commerce business? Hopefully, our shortlist of Shopify's biggest pros and cons will help you decide…
Pros of Using Shopify
User-Friendly: Despite its advanced functionality (especially in its higher price plans), Shopify remains pretty easy to use, allowing you to build and manage an online store without requiring any technical skills.
Design Flexibility: With 80+ free and paid themes to choose from in the Theme Store (and thousands of third-party options), Shopify allows merchants to choose the design that best matches their brand and niche.
Customer Support: All Shopify customers can access 24/7 support via email and live chat (although only Shopify Plus stores get priority support through email, live chat, and phone). This support is especially useful for smaller e-commerce businesses that don't have dedicated IT teams.
App Store: Shopify's app store contains thousands of apps and plugins to level up your store's functionality, reach customers through new sales channels, and optimize your website for search.
Security: Using Shopify is a major trust factor, because all merchants get an SSL certificate that authenticates their store's identity and enables an encrypted connection. Shopify also complies with the highest Payment Card Industry standards.
Cons of Using Shopify
Cost: Shopify isn't a charity. Although its Basic plan is fine for new e-commerce stores, you'll likely need to upgrade to a higher plan once your business starts to grow. It's also important to note that many Shopify themes and apps carry an additional cost. With all those elements combined, you could easily end up paying hundreds (or thousands) of dollars a month to maintain your store.
Transaction Fees: Shopify takes a slice of all transactions on your store, ranging from 1.5% – 2% for US-based retailers, depending on your Shopify plan. They might not sound like huge sums, but they can make a significant dent in your profit margins.
Limited Customization: Shopify's ease of use makes it a great fit for beginners, but it can hold back more advanced users. It's less customizable than some other e-commerce platforms (like WooCommerce), especially if you lack coding skills and don't want to pay for premium apps.
Hard to Leave: Want to switch to a different platform down the line? It can be tough to migrate all your store data, potentially forcing you to stick with Shopify for longer than planned.
Platform Updates: Shopify releases regular updates designed to fix bugs, add new features, and otherwise improve performance. But these upgrades can also affect your store's design and functionality — especially if you're using third-party apps and custom code.
A Quick-Start Guide to Selling on Shopify
Ready to start your journey as a Shopify merchant? Follow these steps to find your niche, build your store, and customize it to your needs…
Step 1: Find the Products You Want To Sell
Before you build your store, you need to find something to sell.
Your goal here isn't just to find popular and profitable products — it's also helpful to identify niches that align with your interests and skills. The more you know about a given category, the easier it'll be to promote your products.
Here are a few strategies to help you find products your audience will love:
Conduct Market Research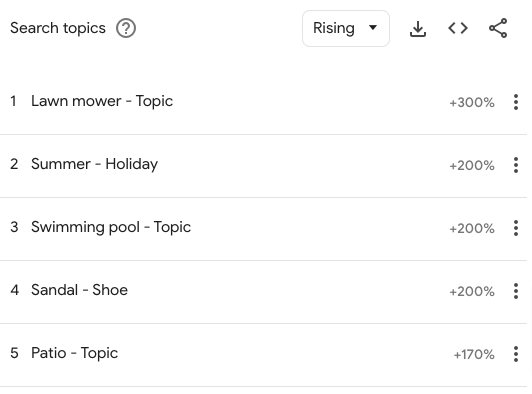 Whatever product type you end up selling, you should start by analyzing the market to understand:
What products people are looking for
How much they'll pay for them
Who you're competing with
Use social media sites and tools like Google Trends and Trend Hunter to explore potential niches and discover trending products.
Look for Dropshipping Suppliers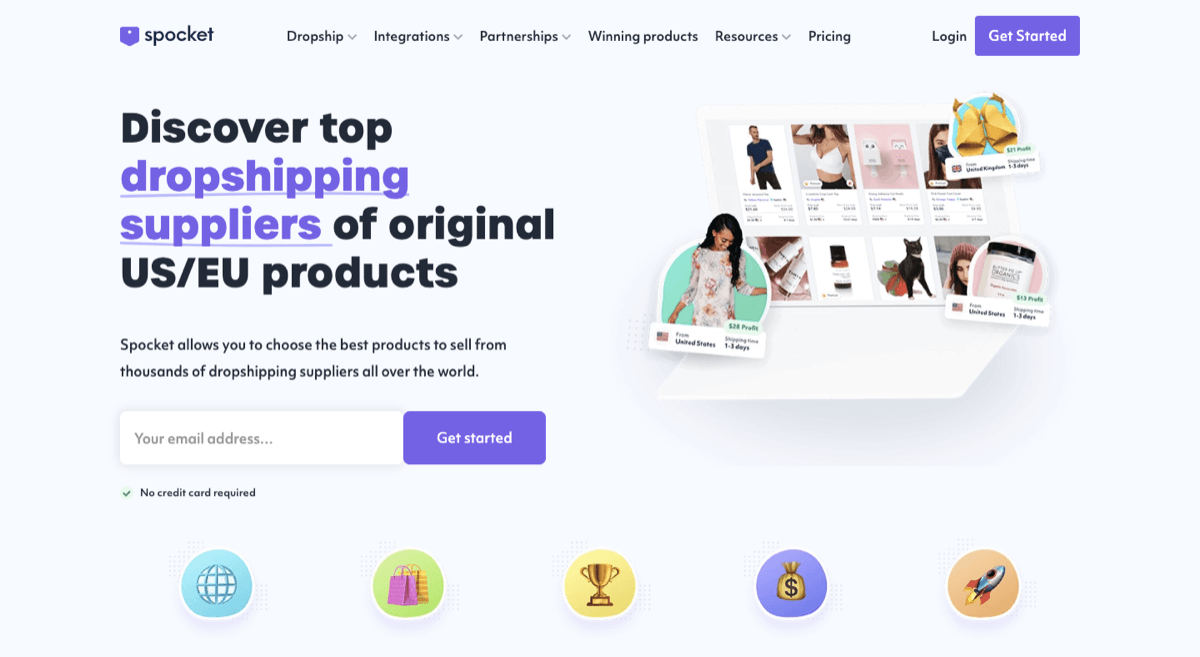 With dropshipping, customers buy from your store, then their order gets sent to a third-party supplier who sends the product to them — meaning you don't need to worry about carrying inventory or handling shipping. You can find thousands of dropshipping suppliers through platforms like:
Deal Directly With Manufacturers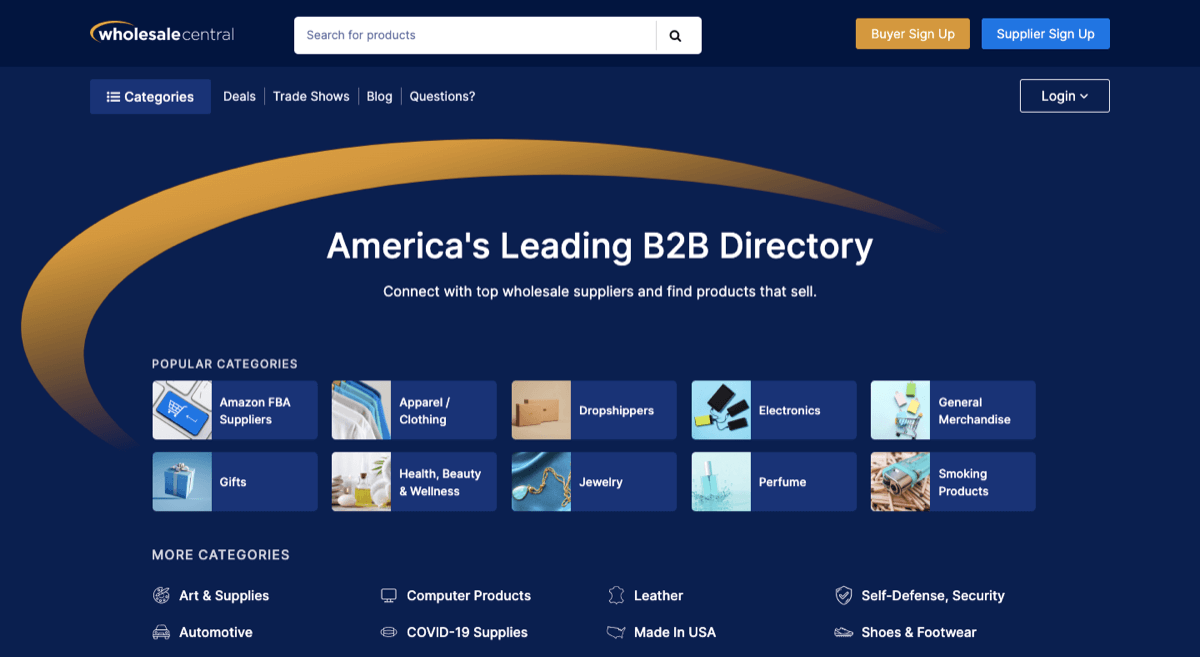 Wholesale buying is about purchasing products directly from manufacturers and selling them at a higher price on your Shopify store. So it's kind of like dropshipping, except you need to buy the products yourself, handle the inventory, and take charge of fulfillment. On the plus side, it tends to deliver significantly higher profit margins than dropshipping. Find wholesale suppliers through platforms like:
Sell Handmade Goods
If you're fortunate enough to have the talent to create your own products, you can sell them on your Shopify store. Popular handmade goods include candles, furniture, jewelry, and artisanal food products.
Leverage Print-on-Demand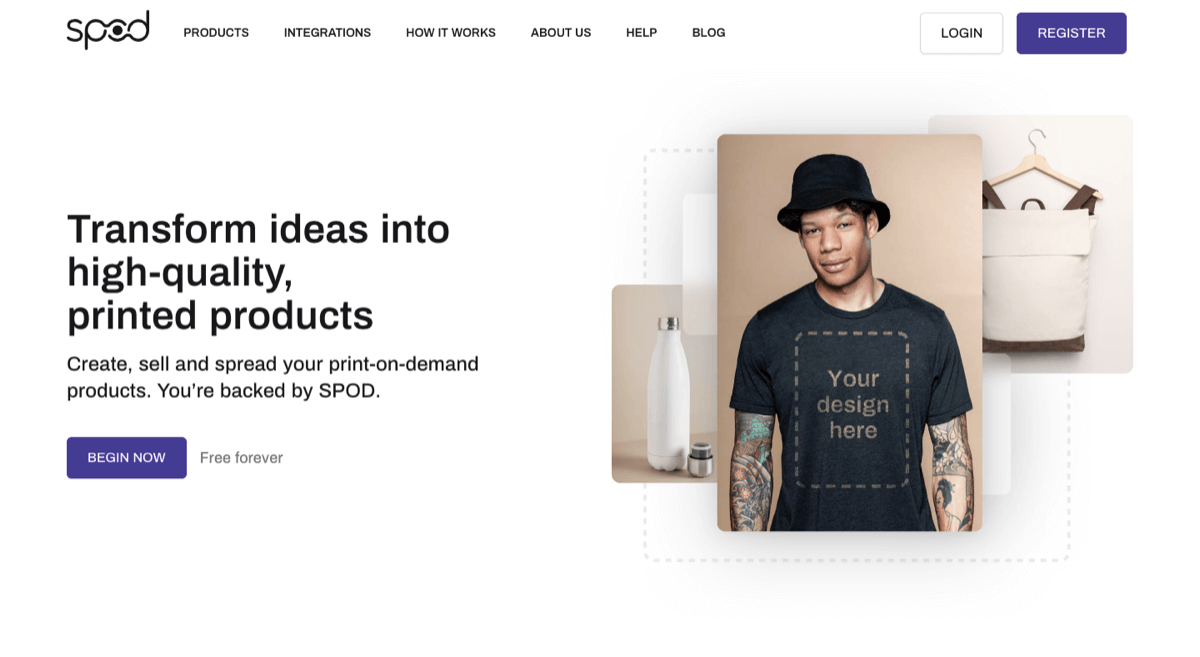 Print-on-demand is a business model that allows merchants to design their own products — like T-shirts, caps, mugs, and posters — then get a third-party provider to create them as orders come in. Again, it's a little like dropshipping, except you're responsible for coming up with the products. Popular print-on-demand services include:
Consider Digital Products
Not all Shopify merchants sell physical products; plenty are making money from sales of digital products like ebooks and digital art. And if you've got a teachable skill (like yoga or coding) you could monetize it by selling your own online courses.
Increase sales by up to 175% with product badges
Use product labels to help products sell faster.
Highlight best sellers, new arrivals, almost gone, and more.
Increase sales by up to 175% with product badges
Use product labels to help products sell faster.
Highlight best sellers, new arrivals, almost gone, and more.
See the guide
Step 2: Sign Up for the 3-Day FREE Trial
Now you've identified a niche, it's time to build your Shopify store. Click here to sign up for a FREE 3-day Shopify trial.
Three days isn't much time, but it's long enough to get to grips with the platform and build a functional store.
Shopify won't ask for your credit card details at this stage, so you'll only have to provide your contact information and store name and answer a few basic questions.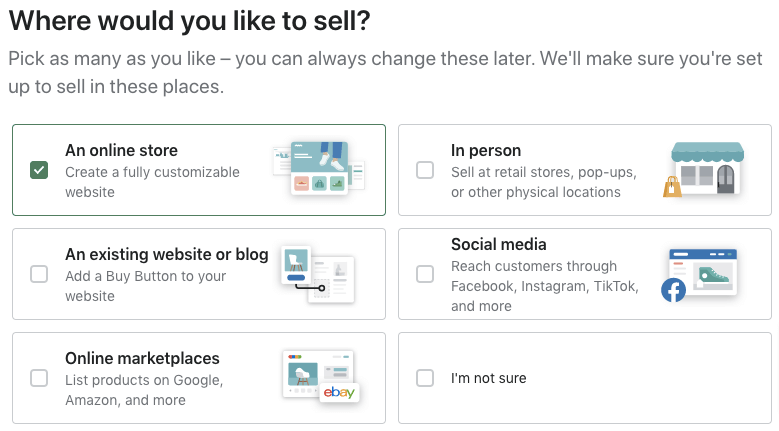 Step 3: Add Your Products to the Store
Having built your online store, your next task is to fill it with products. Shopify makes this process pretty simple:
Log in to your Shopify dashboard.
Click Products in the left-hand menu, then click the Add product button.

Write your product title and description.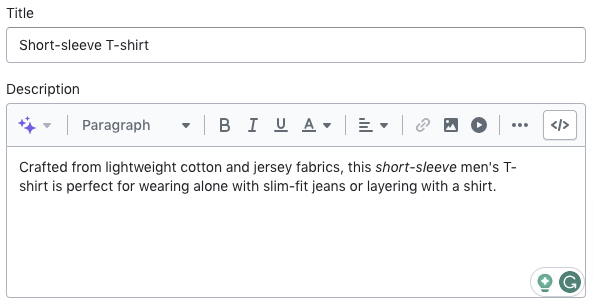 Add product images in the Media section, either by uploading from your device or pasting the image URL.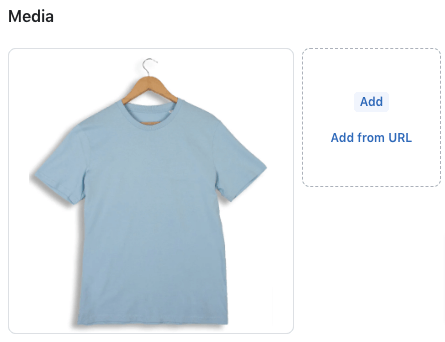 Set your price (and, optionally, your compare at price) in the Pricing section. Also, add your cost per unit so Shopify can calculate your per-unit profit and margin.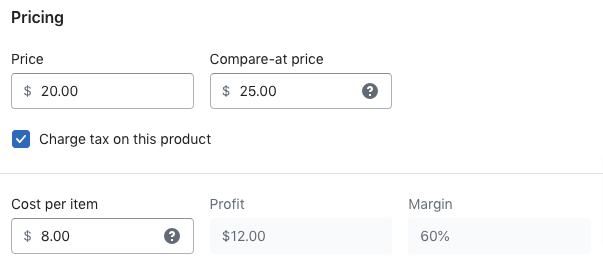 In the Inventory section, tell Shopify how many units of this product are in stock, and whether you want to keep selling the product when you run out.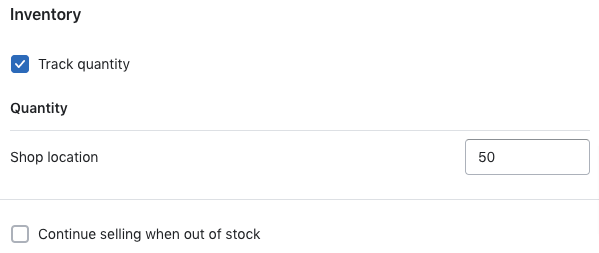 Also in Inventory, create a SKU or barcode to help with inventory management.
In the Shipping section, enter your product's weight (in grams, kilograms, pounds, or ounces), and select whether you want to add customs information for international shipping. Or click Digital product or service if you're not selling a physical product.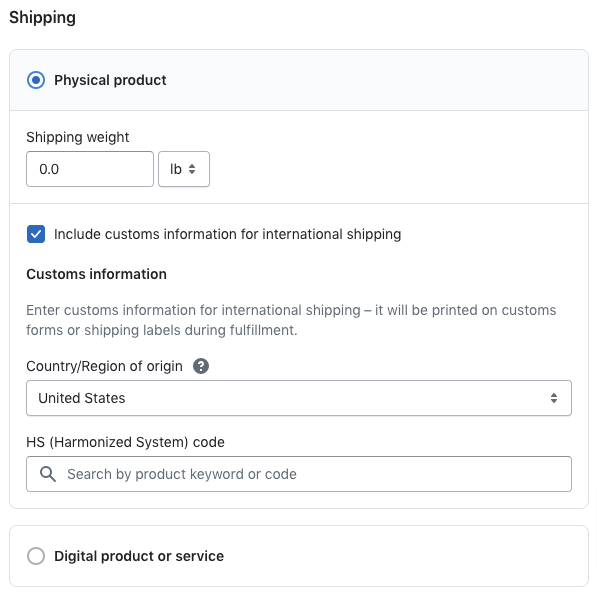 If relevant, add any size, color, material, or style variants in the Variants section. Remember to add pricing details, inventory levels, and unique SKUs for each variant, too.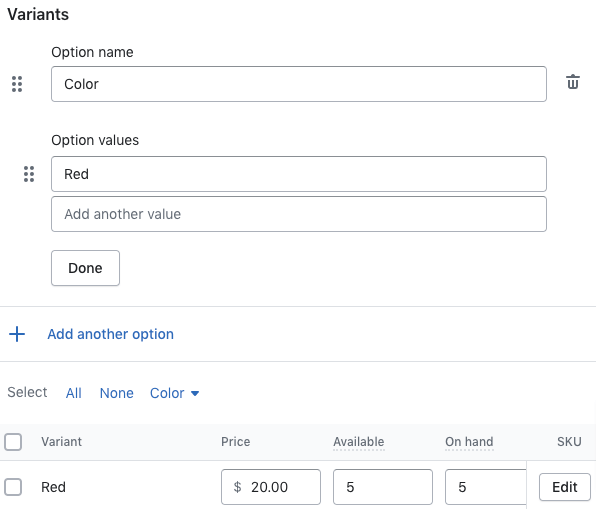 Once you're happy with all the information you've added, hit Save to add the product to your store.
Step 4: Customize Your Store With Themes
Shopify themes allow you to customize the look of your store to match your branding, niche, and audience. There are 80+ professionally designed options to choose from in Shopify's Theme Store, including 12 free themes.
You can choose from Shopify's most popular free themes within your Shopify dashboard: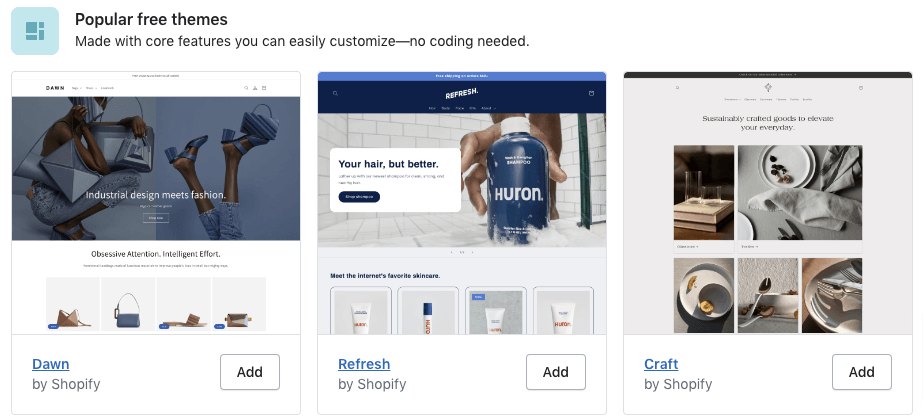 Alternatively, click Visit Theme Store (or click here) to browse the full selection of paid and free themes. When you find one you like, click Try theme (or just click Add if you're browsing the options in your Shopify dashboard).
Step 5: Consider Your Shopify Shipping Options
Shipping is one of the trickiest elements of running an e-commerce store. In fact, 56% of all abandoned carts can be attributed to shipping-related concerns, so it's important you get your shipping offer right. Fortunately, Shopify makes things a little easier through Shopify Shipping, which connects merchants with the platform's shipping carrier accounts.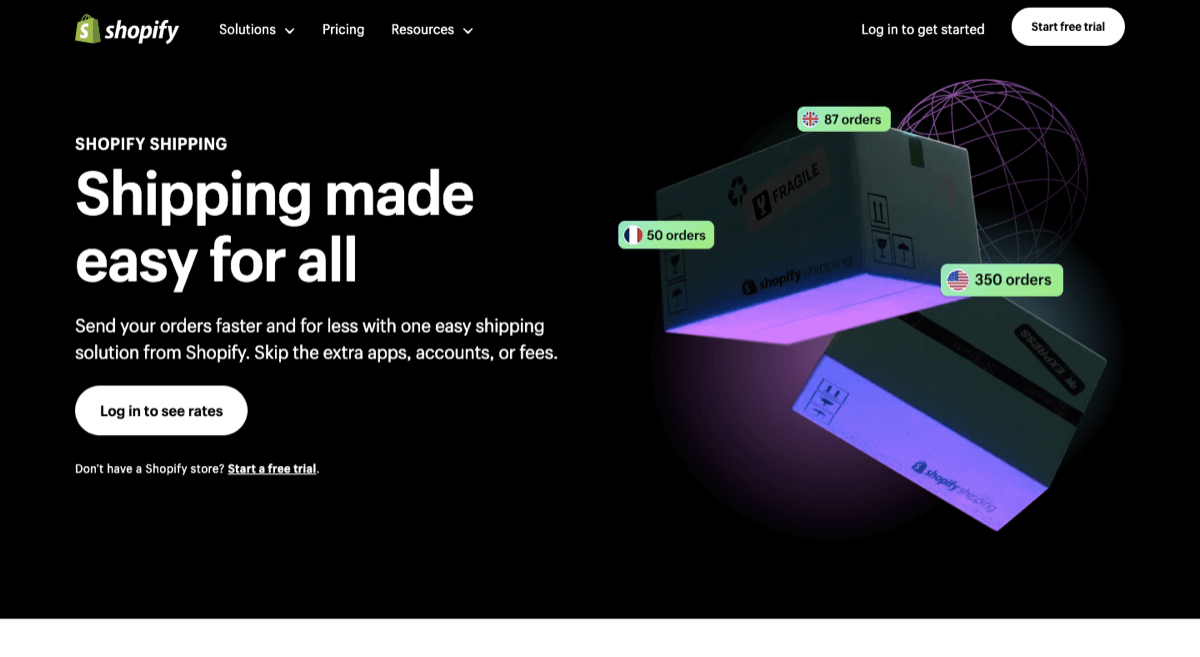 But Shopify can't do everything for you. Consider these factors before setting your shipping rates:
Product type: Is it small and compact or big and bulky?
Product weight: Heavy products are invariably more expensive to ship than light ones.
Shipping locations and destinations: Where are you shipping from and to?
Preferred shipping method: Shopify offers three main shipping methods: shipping, local delivery, and local pickup.
Access to different shipping types: Can you realistically offer flat-rate or free shipping?
Step 6: Enable Payments to Your Store
You've built a store, added products, and sorted your shipping options… Now it's time to add payment methods. The easiest approach is to set up Shopify Payments by:
Logging into your Shopify dashboard.
Clicking Settings at the bottom of the left-hand menu.
Selecting Payments and clicking Activate Shopify Payments.

However, be aware that Shopify Payments is only currently available in a couple dozen countries. If you've got customers outside North America, Europe, and one or two Asia Pacific countries, you'll need to look elsewhere. Also, you have to set up two-factor authentication before you can active Shopify Payments.
If you need a different payment option, browse the list of supported payment methods within the Payments section.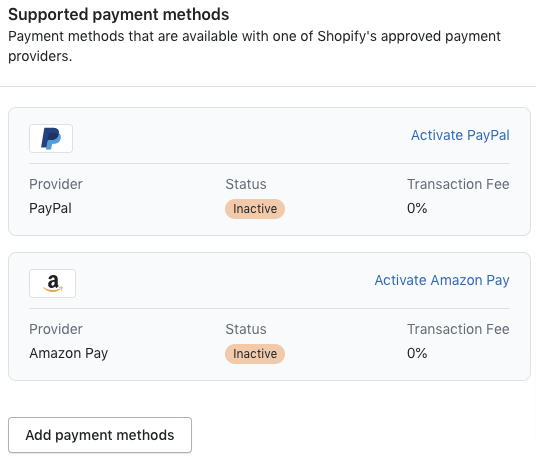 Step 7: Boost Sales by Integrating Your Store With Shopify's Sales Channels
Congratulations — your store is all dressed up and ready to go!
At this point, it's time to think about other ways to reach your target audience. Shopify allows you to connect other sales channels and marketplaces, allowing you to drive sales, track orders, and monitor user behavior across multiple platforms. Here's a full breakdown of Shopify's sales channels (excluding online store, which we've already covered):
| | |
| --- | --- |
| Channel | Description |
| Shop | Reach customers and build your brand through the Shop app. |
| Buy Button | Sell from an existing blog or website, including Squarespace and WordPress sites, by embedding a buy button that connects to your Shopify checkout. |
| Facebook | Sell products from the Shop tab on your Facebook page. |
| Instagram | Tag and sell products featured in your Instagram posts. |
| Shopify Inbox | Speak to customers and centralize chats from other messaging platforms. |
| Wholesale | A password-protected storefront for selling your products wholesale to other businesses (NB this is only available to Shopify Plus customers). |
| Handshake | Feature your business and products on the Handshake wholesale marketplace. |
Follow these steps to add a new sales channel:
Log in to your Shopify admin.
Navigate to Settings > Apps and sales channels.
Click the Shopify App Store button.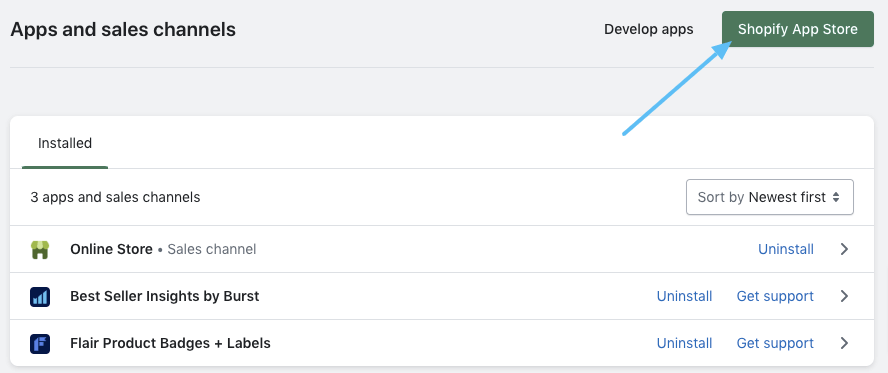 Find the sales channel you want to add and click Add channel.
Some sales channels aren't available to certain store types. If you're not eligible for a specific channel, it'll appear as Unavailable in your Shopify admin. Click You can't add this channel for further details.
Other FAQs
Boost your Shopify sales by up to 175% automatically with Flair
Highlight products with badges
Promote sales with banners & countdowns
Automate with conditions and scheduling
Boost your Shopify sales by up to 175% automatically with Flair
Highlight products with badges
Promote sales with banners & countdowns
Automate with conditions and scheduling
Try Flair for FREE
Is Shopify Good for Beginners?
Yes, Shopify is a good fit for beginners. The user-friendly platform allows you to build and manage an e-commerce store without requiring advanced technical skills. And it offers a range of price plans, starting at just $5 per month, making it an excellent match for anyone taking their first steps in the e-commerce world.
How Much Do Shopify Fees Cost?
Shopify fees vary based on your Shopify plan and location. For US Shopify merchants, fees range from:
1.5% for Shopify Advanced subscribers
1.7% for Shopify subscribers
2% for Shopify Basic subscribers
How Much Does an Average Shopify Store Make?
Shopify doesn't publish data on average store earnings. Some Shopify merchants make millions of dollars a year; others sell nothing at all. However, data from a survey of 2,200+ Shopify stores revealed an average order value of $85, while the top 10% of stores earn $311 per order.
How Much Time Does it Take Running a Shopify Store?
You can build a basic online store in as little as 3 – 4 days. The time taken to run your store will vary based on your business model. Dropshipping requires minimal day-to-day involvement, as the whole fulfillment process is handled by third-party suppliers. But other models require a far more hands-on approach.
How Many Products Can Shopify Handle?
Shopify can handle unlimited products, with no restrictions on any price plan. However, there is a limit to adding new variants: when a shop has 50,000+ variants, they can only add 1,000 variants a day. This limit doesn't apply to Shopify Plus customers, while non-Plus merchants can apply for an exemption.