How to Make Money on Shopify: 15+ Amazing Ideas
15 min read
created Jul 20 2023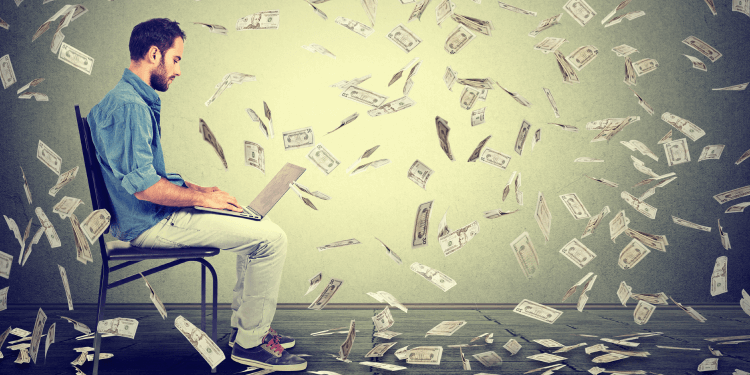 Shopify is the driving force behind millions of e-commerce stores in 170+ countries, with a total global economic contribution of more than $444 billion.
Not bad for a platform that started out as an online store selling snowboarding gear.
One of Shopify's biggest strengths is its flexibility: with over 8,000 apps available, it's possible to highly customize your store and implement out-of-the-box e-commerce strategies.
That means there are lots of ways to make money on Shopify.
We're going to round up some of our favorite strategies and tactics in this article. But first…
Things To Do Before You Start a Business on Shopify
Before you start thinking about building a multimillion-dollar e-commerce empire, you need to get your Shopify store up and running. Here's how to do it:
Make Sure You Have Your Business Plan
A business plan defines your objectives (and how you plan to achieve them).
Think of it as a roadmap charting your journey from A – Z, incorporating your marketing plans, financial projections, and operational capabilities.
As a minimum, your business plan should include the following details:
Business type. In other words: What does your business do? What types of products and/or services do you sell? And who do you sell them to?
Skill and capacity requirements. What soft skills and technical capabilities will you need to get your business off the ground? Can you do the work yourself, or do you need to hire a third party (or an employee) to do it for you? And do you have the necessary bandwidth to make it all happen?
Money-making potential. Is there a decent prospect of turning a profit in your chosen niche? How long will it take to break even? And do you have the necessary savings or investments to keep the lights on before the sales start pouring in?
Startup costs. How much money do you need to spend to start your e-commerce business? This should factor in everything from buying inventory to building your Shopify store.
Have a Marketing Plan
A marketing plan outlines your strategy for building brand awareness among your target audience, generating e-commerce leads, and persuading them to buy your products. It should incorporate:
Your niche
The types of customers you're targeting
Where those customers hang out online (this will govern the marketing channels you use)
Once you've figured out those top-level details, you'll want to start thinking about specific marketing tactics. For instance, which Shopify theme is the best fit for your niche and audience? What tone of voice will you adopt in your promotional messaging? And what keywords will you target to bring organic traffic to your store?
Create a Strategy for the Store's Operations (Shipping, Tax, and Payment Gateways)
Operations might not be the sexiest element of running an e-commerce store, but it affects some of the most vital parts of your business, including:
Shipping. If your shipping is too slow, expensive, or unreliable (or all three), you're going to have a lot of unhappy customers on your hands. When planning your shipping offering, be sure to factor in the size and weight of your products, the shipping location and carrier rates, and your potential profit on each order.
Tax. Shopify automatically calculates sales taxes for you. However, it isn't liable for any errors in your tax returns, so you should consider getting help from an expert when filing your taxes.
Payments. Simply put: how will customers pay for your products or services? The simplest method is to use Shopify Payments, but not all countries are supported. What's more, some business types and products are prohibited. If you can't use Shopify Payments, you'll have to opt for an alternative, like PayPal, Stripe, or WorldPay.
Ways to Make Money on Shopify
By this point, you've laid the groundwork for building a successful e-commerce business. Congratulations!
Now it's time for the all-important matter of making money. Because you're (probably) not doing this as a free hobby.
To help you out, we've collated 15 top strategies for making money on Shopify…
Start an E-Commerce Store
First things first, you'll want to build your Shopify store.
While it's perfectly possible to sell products and services through social platforms like Facebook and Instagram, having your own store gives you more control; there's less chance that a single tweak to the algorithm will torpedo your business overnight. It also allows you to leverage a wider range of promotional strategies, such as:
Email marketing
Social media
Organic search
Paid media (pay-per-click search ads and social ads)
Don't worry if you've never built a website before, because launching a Shopify store is pretty simple.
Thanks to Shopify's wealth of prebuilt themes, you don't need any advanced technical skills to build your store (although a working knowledge of general user experience and SEO best practices certainly helps).
We cover the basics of how Shopify works, what you can sell, and how to get started as a merchant in our in-depth guide to getting started on Shopify.
Find Products to Sell
Once you've built your store, it's time to populate it with products.
To be clear, you should have a clear idea about your niche and target audience before launching your Shopify store, because they'll affect your choice of theme and your navigational structure.
But if you're looking for a little inspiration, we've rounded up a few profitable ideas for what to sell on Shopify:
Sell Handmade Goods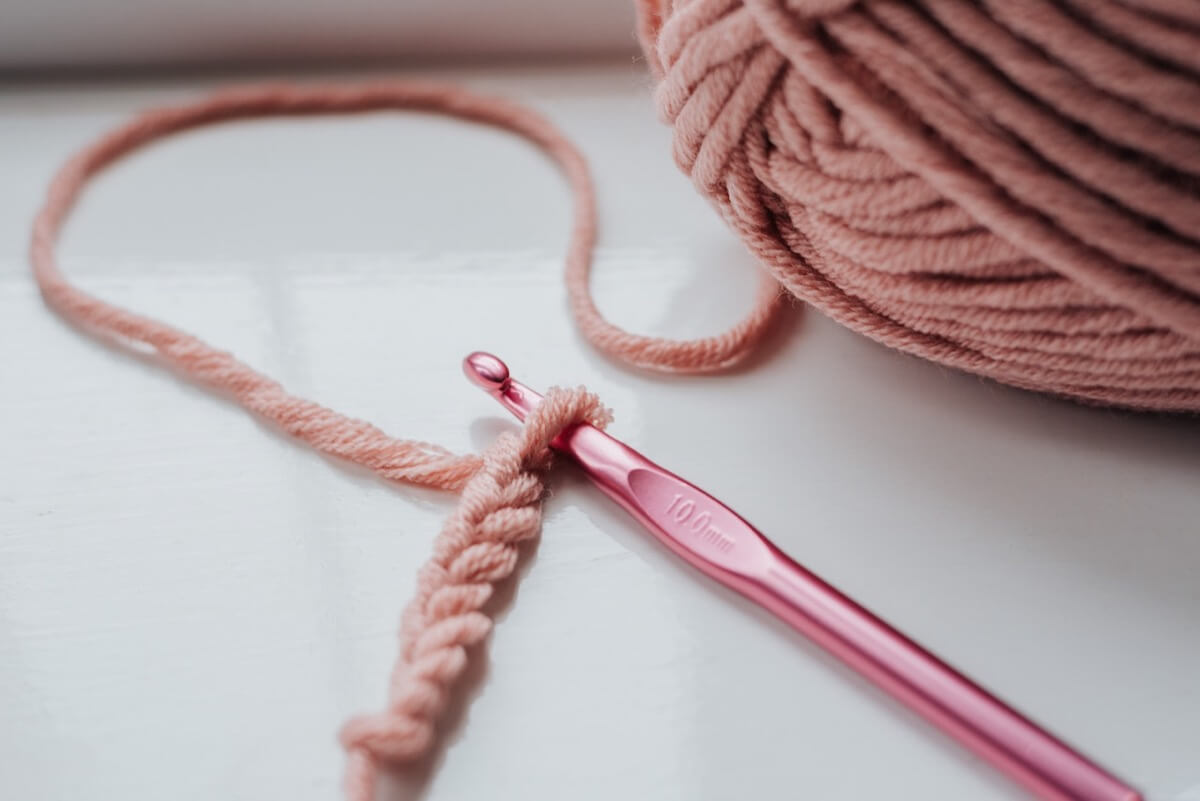 Handmade goods might seem kind of twee in the digital age, but they offer a ton of sales potential, with the global market for handicrafts expected to reach almost $1.3 trillion by 2028.
Of course, you'll need some sort of arts and crafts-related skill if you're going to make handcrafted goods that people actually want to buy; there's probably not much of a market for pasta shells glued to a piece of A4 paper.
But assuming you've got the talent, selling handmade products is a fantastic way to build a loyal audience and differentiate your Shopify store. Because if you've made all the inventory yourself, there's no chance a competitor will be able to sell exactly the same products.
Sell Thrifted or Vintage Goods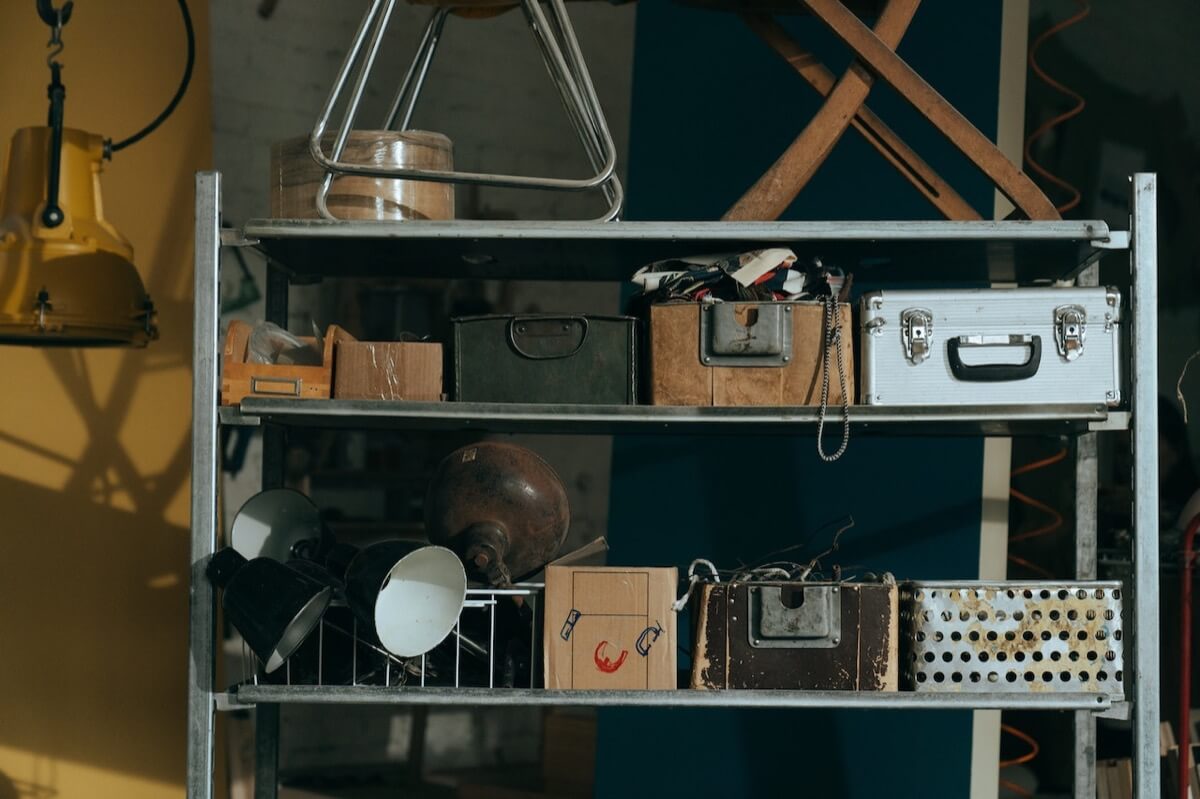 Whether they're navigating the cost of living crisis or striving to live more sustainably, the vast majority of Americans are open to shopping for second-hand products online.
And it's not all about reselling vintage clothes. In fact, three-quarters of all pre-owned items bought and sold fall into non-apparel-related categories, including:
Electronics
Furniture
Home goods
Sporting goods
Outdoor equipment
All of which means that selling vintage and thrifted products is an attractive option for Shopify stores across a wide range of niches.
Sell Niche Products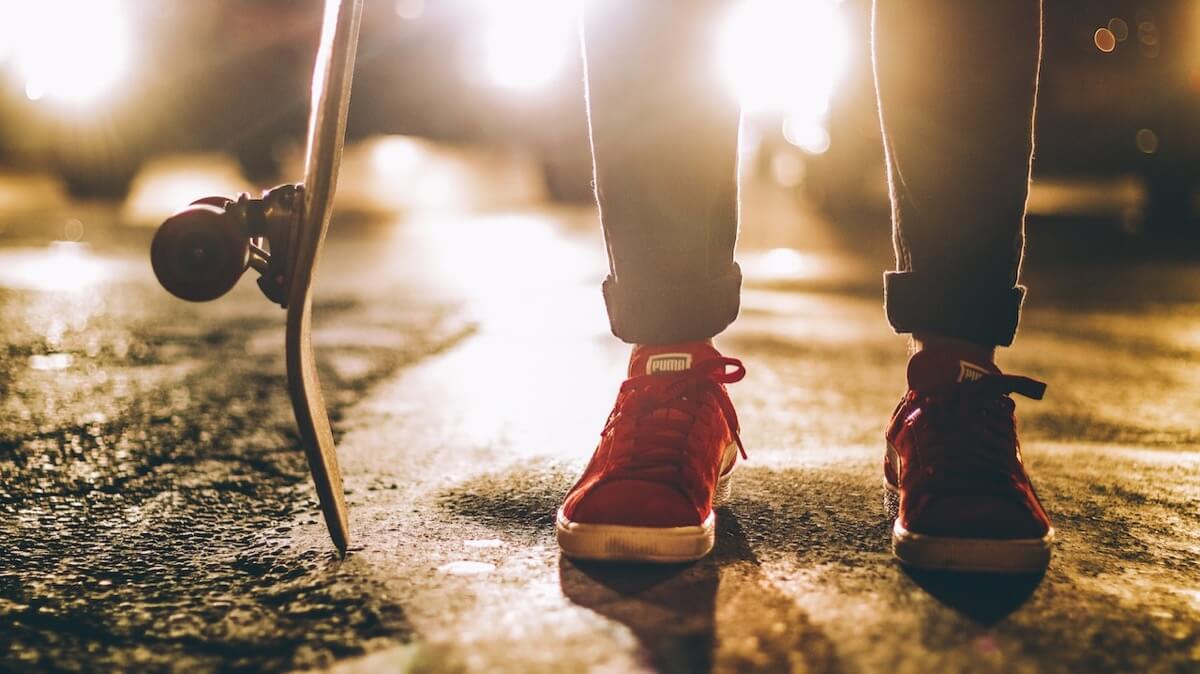 Selling niche products is about targeting smaller segments of broader markets, in which the customers have specific needs and preferences — allowing you to reach them with more targeted messaging. For instance, rather than opening a Shopify store selling sneakers, you might focus specifically on skate shoes.
Offering niche products helps you stand out from the competition and build a loyal, engaged audience full of people who love the specific products you sell.
However, you'll need a decent understanding of your niche before getting started. Otherwise you risk looking like an outsider trying to monetize someone else's passion.
Sell Clothing and Accessories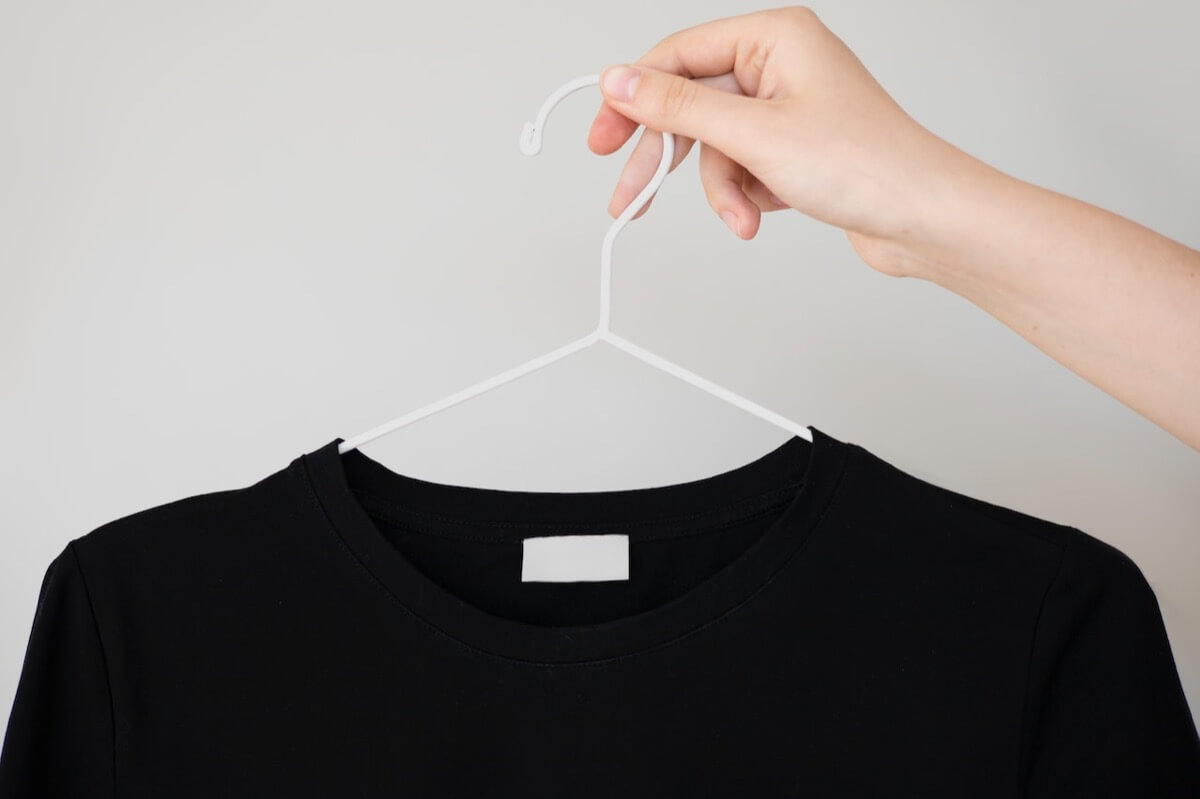 Thanks to apps like Printful and Printify, it's never been easier to design, manufacture, and ship your own unique clothing designs.
Accessories — like jewelry, sunglasses, belts, and watches — could be another smart product selection. Either make them yourself (remember, handmade goods are big business), sell vintage accessories, or source them from a third-party manufacturer.
Increase sales by up to 175% with product badges
Use product labels to help products sell faster.
Highlight best sellers, new arrivals, almost gone, and more.
Increase sales by up to 175% with product badges
Use product labels to help products sell faster.
Highlight best sellers, new arrivals, almost gone, and more.
See the guide
Sell Digital Products and Downloads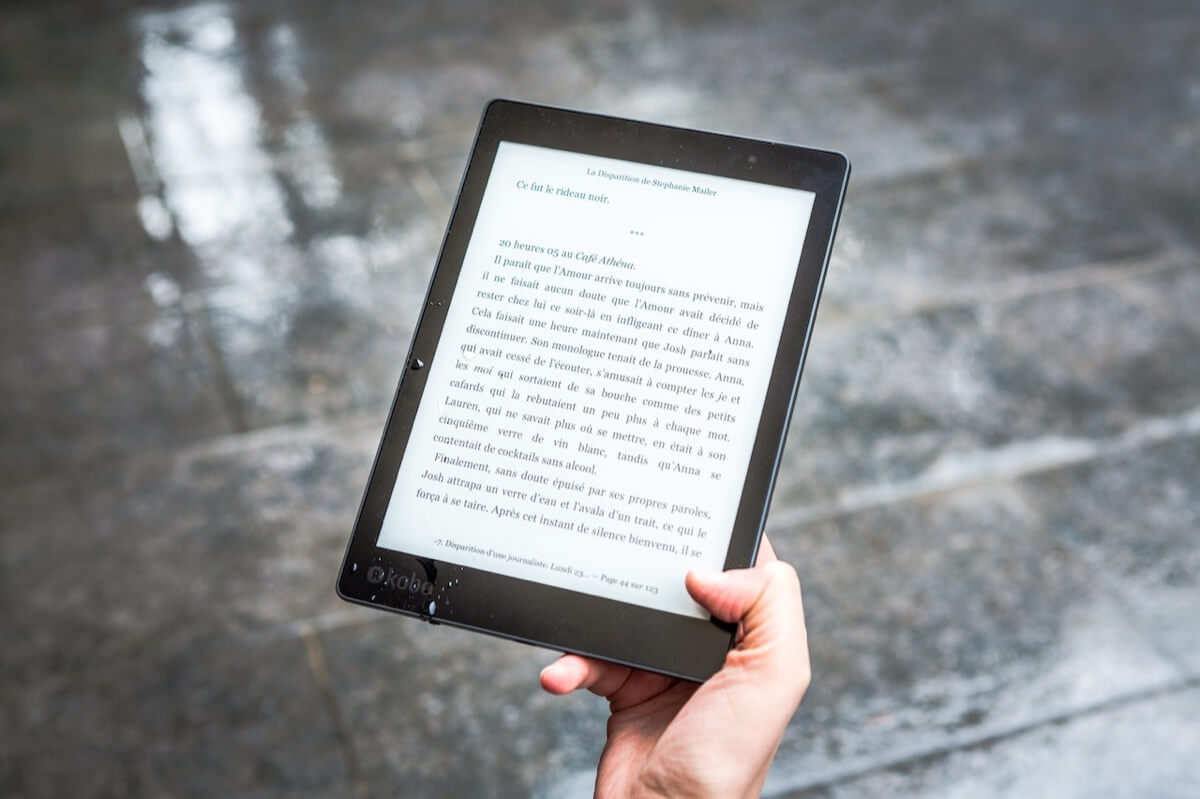 Digital products and downloads are examples of non-physical products.
As such, they offer some big advantages to store owners. For starters, there are zero shipping costs involved in digital product sales. They're also highly scalable and offer superb profit margins.
Let's take a look at some of the most popular download and digital product categories:
E-books. By 2032, the global e-book market is expected to be worth an astonishing $32 billion. We're not necessarily suggesting you become a fiction author (although if you've got a novel in you, go for it); there's plenty of demand for e-books in non-fiction categories, like self-help and business advice.
Games. Whether we're talking video games, board games, or puzzles, there's plenty of money to be made selling games on Shopify. Depending on your technical and creative capabilities, you can either design and build them yourself or buy them from a third-party and sell them at a markup.
Digital art and photos. Web designers, marketers, and other digital professionals have an endless need for photos and digital artworks. If you're a talented creative, this could be the perfect niche.
Podcasts. The vast majority of podcasters monetize their shows through advertising, or by selling subscriptions through platforms like Patreon. However, there's no reason you can't use a Shopify store to sell your podcast; it's just like selling any other digital product.
Songs. Again, Shopify likely isn't the first platform you think of when it comes to selling music, but that doesn't mean it's not worth exploring. Bear in mind that if you're going to sell your music on Shopify, you'll probably need to install a third-party digital downloads app (Shopify has its own, appropriately called Digital Downloads).
Sell Online Courses and Workshops
Fancy turning your knowledge of coding, fly fishing, or sword-making into a revenue stream? You can by creating an online course or workshop and selling it through your Shopify store.
Bear in mind that you'll likely need to integrate your store with a third-party learning management system like LearnWorlds, Teachable, or Thinkific to deliver course content to your paying customers.
Develop a Shopify App or Theme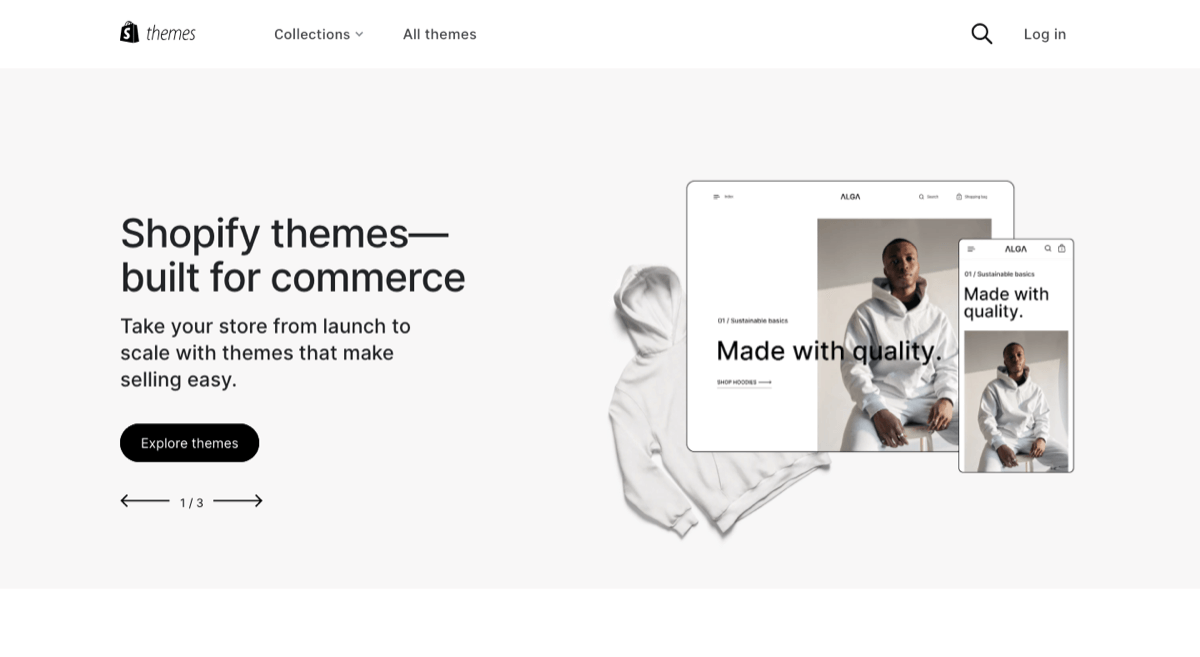 Developers earn hundreds of millions of dollars a year selling apps and themes through Shopify's dedicated stores, making this one of the most lucrative ways to make money on Shopify.
Of course, it's not a totally risk-free strategy. You'll have to cover all the development costs — and even after that, there are no guarantees Shopify will even approve your theme or app.
It's also worth noting that Shopify may take a chunk of your earnings, depending on how much you sell. Shopify's revenue-sharing agreements vary based on what you're selling:
Shopify app sales revenue: You earn 100% of the total revenue from the one-time sale price or recurring subscription fees and all app purchases or upgrades made through the Shopify App Store on the first $1 million USD. On revenue over $1 million, you earn 85% of total revenue.
Shopify theme sales revenue: You earn 100% of the total revenue from themes sold through the Shopify Theme Store on the first $1 million USD. On revenue over $1 million, you earn 85% of total revenue.
Set Up a Dropshipping Business
Dropshipping is an online business model in which retailers sell products to customers without keeping any inventory in stock.
Instead, when someone places an order, it gets shipped by a third-party manufacturer, retailer, or wholesaler. In effect, the original retailer acts as a shopfront and keeps a cut of the sale (the difference between the wholesale and retail prices).
Dropshipping is attractive because there are few barriers to entry, minimal startup costs, and little risk attached. Overheads are low, too, with no need to buy inventory, pay shipping fees, or cover warehousing costs.
So it's easy to see why the global dropshipping market is expected to be worth over $930 billion by 2030.
Start an Affiliate Program
Affiliate marketing helps you expand your reach by incentivizing bloggers, influencers, and content to recommend your products.
You'll have to pay your affiliates a commission — typically 5% or more — for each sale they refer, which can eat into your profit margins. But the risks are pretty low and the rewards can be high (in terms of finding new customers and generating more sales).
It's relatively easy to start your own affiliate program: either use a third-party software platform like LeadDyno or UpPromote to track clicks, sales, and commissions, or let an affiliate network like CJ Affiliate or ShareASale do the work for you in exchange for a cut of your sales.
Alternatively, you can make money by joining another retailer's affiliate program. Add links to your content and you'll earn commissions each time someone clicks through and purchases.
Become a Shopify Affiliate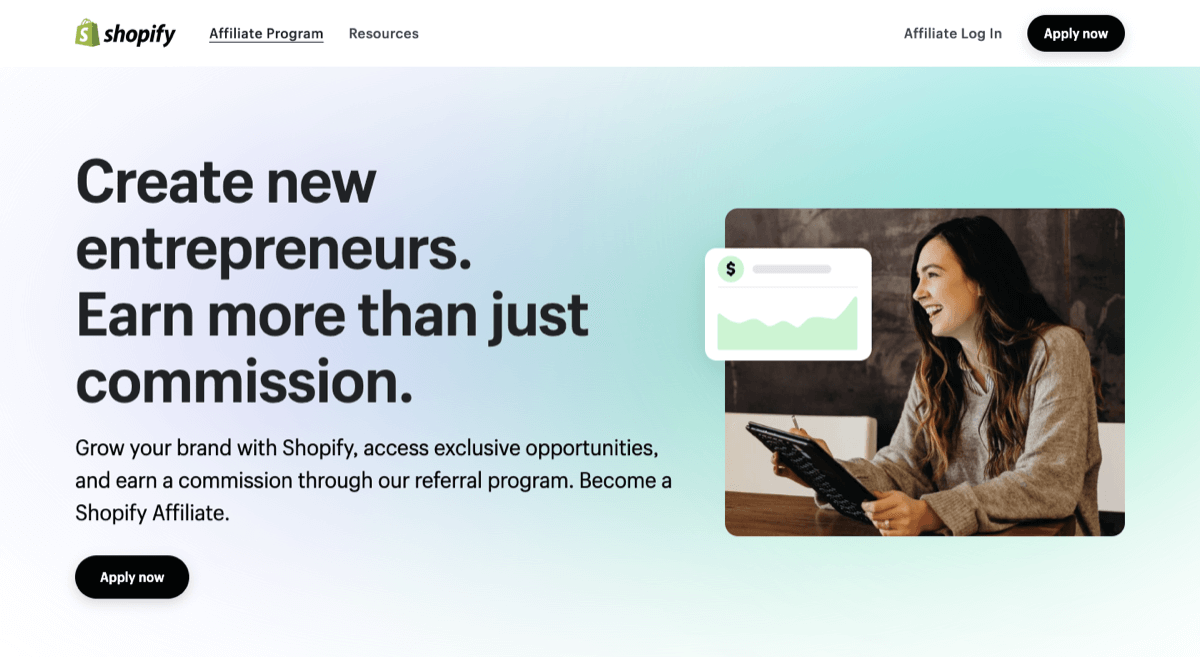 On that note, why not join Shopify's affiliate program? You can earn up to $500 per sale promoting Shopify's various paid plans and its POS Pro tool, just by adding a few affiliate links to your content.
Sell Your Services
There are a couple ways you can make money selling services through Shopify.
Firstly, and most obviously, you can set a fixed price for specific services (like graphic design or web development) and sell them on your Shopify store, just like any other digital product.
Another less obvious approach is to reach out to other Shopify merchants and pitch your services as a copy or content writer. Store owners might need blog posts, product descriptions, landing page copy, email newsletters, and much more besides, so this can be a potentially lucrative revenue stream.
Become a Shopify Expert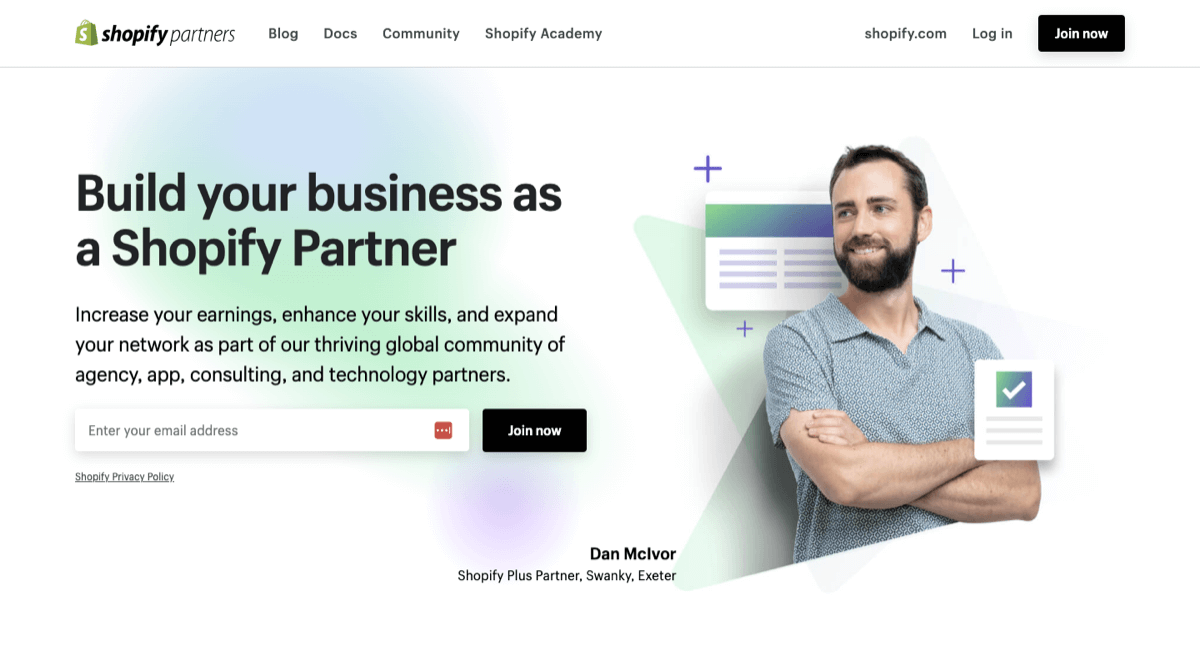 Know what it takes to design, develop, or promote a Shopify store? Why not share the wealth (while making some money along the way) by becoming a Shopify partner and helping other merchants level up their e-commerce sites? Shopify Experts must be skilled in one or more of these fields:
Marketing and sales
Store setup
Development and troubleshooting
Visual content and branding
Content writing
Expert guidance
Partners earn up to 20% recurring commissions for merchants they refer, plus various other referral bonuses.
Monetize Your Social Media
Not only can you promote your products via social media, but if you have a large enough audience, you can get paid as an influencer to promote other merchant's products.
Build and Flip Shopify Stores
Not every Shopify store has to be a lifelong commitment.
Once you've built and scaled up a site, you might decide it's time to cash in by selling it to a third party via a platform like Empire Flippers or Flippa.
It's not uncommon for successful websites to sell for six figures (or more):
And once you've sold a site, you can start all over again!
Conclusion
As you can see, there's no shortage of ways to make money on Shopify.
And the best thing of all is that you don't need to pick a single path: you can sell handmade goods and vintage products via the same store, while touting your services as a Shopify expert and running an affiliate program.
The only limit is your own time.
Whatever route you choose, learn how to turn more of your store visitors into paying customers with our guide to increasing Shopify conversion rates!
Boost your Shopify sales by up to 175% automatically with Flair
Highlight products with badges
Promote sales with banners & countdowns
Automate with conditions and scheduling
Boost your Shopify sales by up to 175% automatically with Flair
Highlight products with badges
Promote sales with banners & countdowns
Automate with conditions and scheduling
Try Flair for FREE
Other FAQs
How Much Money Can You Make on Shopify?
There are approximately 1.75 million merchants on Shopify, and the platform processed $79.5 billion worth of orders in 2021. By that measure, the average Shopify store makes approximately $45,000 per year, or about $3,750 a year.
In reality, those figures are skewed by larger stores generating millions of dollars of annual sales, while plenty of smaller merchants are earning very little. But there's really no limit to how much you can make on Shopify.
Is Shopify Good for Small Business Owners?
Shopify is a fantastic fit for small e-commerce businesses. Of course there are pros and cons to choosing Shopify. While it's a little pricier than generalist website builders, it provides a host of tools to help launch your store without requiring any coding skills. And there are thousands of themes and apps to customize your site and add extra functionality.
How Much Can You Realistically Make Dropshipping?
It all depends on your niche and the dropshipped products you're selling. Profit margins typically range from 10% – 45%. So if you generate $100,000 in sales, you can expect to see profits of $10,000 – $45,000.
Is Shopify a Good Place To Sell?
Yes! Shopify is one of the most popular e-commerce platforms, thanks to its ease of use, affordable price plans, wide range of apps, and excellent customer support. And it allows you to sell a wealth of different product types, from physical goods to digital art to online courses.
How Long Does It Take To Make Money on Shopify?
It all depends on how much time you're prepared to invest. You can build a basic Shopify store in less than a week, and if you're dropshipping products, there's nothing to stop you generating sales as soon as your site is live. However, it might take weeks, months, or even years to start seeing a return, depending on your availability, business model, niche, and products.
Does Shopify Provide Products To Sell?
No, Shopify doesn't provide products to sell — you'll have to source them yourself. However, it does offer free educational resources through Shopify Learn to help you understand the types of products that might resonate with your audience.