How to Cancel an Order on Shopify: A Comprehensive Guide
9 min read
created Oct 31 2023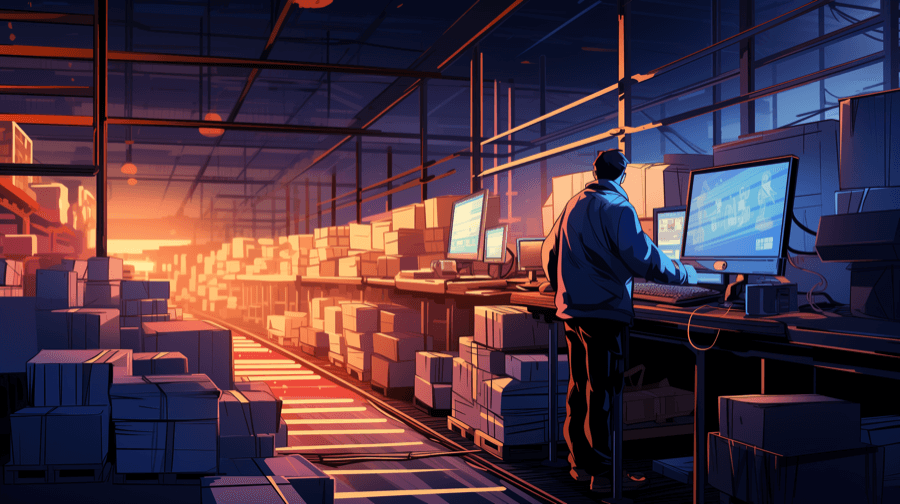 Ideally, when a customer completes a purchase, your focus shifts to fulfilling their order — and encouraging them to buy again.
But it doesn't always work out like that.
Unfortunately, there are various reasons why you might have to cancel a Shopify order. In this article, we'll talk through those reasons and explain how to cancel an order in six easy steps (including screenshots).
Understanding the Importance of Order Cancellation on Shopify
Order cancellation is a fact of life for Shopify merchants. While no retailer wants to miss out on sales, the ability to cancel orders actually offers vital protection against errors and discrepancies, as well as giving customers peace of mind in case they make a mistake while choosing or ordering a product.
When and Why Should You Cancel an Order on Shopify?
Let's look at some of the most common reasons for canceling a Shopify order:
Purchased Items Are Unavailable
Sometimes, an item showing as available on your website might actually be out of stock, meaning customers can place orders you can't fulfill. This often happens at times of high demand.
Problems can also occur for stores that sync inventory and sell products on multiple sites. For instance, say you've got stores on Amazon and Shopify. If someone buys a product from your Amazon store, Shopify won't know it's been sold until the inventory is synced again.
Product Quality Issues
Say a customer has just purchased the sole remaining pair of Shrek Crocs you had in stock.
But when you go to pack and dispatch the order, you notice a problem: one of the horrible ears is missing! In short, they don't meet your exacting quality standards, so you bite the bullet and cancel the order.
Better to take the hit than risk a bad review.
Customer Bought the Wrong Item
Mistakes happen.
Maybe your customer had second thoughts about their purchase. Perhaps their finger slipped when adding to cart and they bought the wrong model or size. Maybe they found a better offer on a rival store.
Whatever the case, it's easier for all parties to let them cancel the order before you ship it.
Delivery Time is Too Long
The speed and cost of delivery are the two biggest factors consumers consider when choosing whether to purchase from an e-commerce store.
So it's only natural that customers will sometimes place an order, learn the expected shipping time, then decide they just can't wait that long. In which case they'll likely cancel.
Suspicions of Fraud
There are two ways fraud can cause Shopify order cancellations:
The customer's bank or user account has been used fraudulently, meaning they didn't actually place the order.
The merchant suspects some sort of fraudulent activity, such as a first-time shopper placing an usually large order, or the shipping address and purchase location (as determined by the IP address) being far apart.
Stores that use Shopify Payments and/or are on the Shopify plan or higher get access to Shopify's fraud analysis tool…
…which tells you if an order has a low, medium, or high risk of incurring a fraud-related chargeback.
Shopify Refund vs. Order Cancellation
Shopify refunds and order cancellations amount to the same thing: you secured the sale, but now it's fallen through.
However, in practice, they're actually pretty different:
| | |
| --- | --- |
| Shopify refund | Shopify order cancellation |
| Initiated by the customer | Can be initiated by either the customer or merchant |
| Involves returning a fulfilled order and restocking it | Stops an order from processing before it ships |
| Takes 5 – 10 business days (but can be affected by external factors, such as the customer's bank) | Takes 10+ minutes to action once your support agent takes over (but could be longer for orders with "payment pending" status) |
Understanding the Different Order Statuses on Shopify
Shopify's order statuses help store owners manage order progress, so it's important to understand what each one means:
Open: An order has been placed or created and requires some sort of action, such as processing payment, fulfillment, or processing a return.
Canceled: If canceled orders aren't fully refunded, there may still be some action required for the merchant.
Archived: Orders can be archived manually or automatically (such as when the order has been fulfilled).
How To Cancel an Order On Shopify
Hopefully, by this point, you understand the Shopify cancel order function and when to use it. Follow these steps to action cancellations:
Visit Orders
Log in to your Shopify admin and click Orders in the left-hand menu: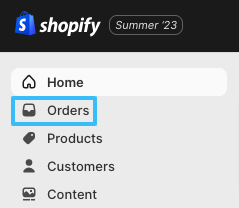 Select the Order To Be Canceled
Find the order you want to cancel, then tick the box next to the order number:

Start the Cancellation Process
Click the More actions (three horizontal dots) menu option and select Cancel orders: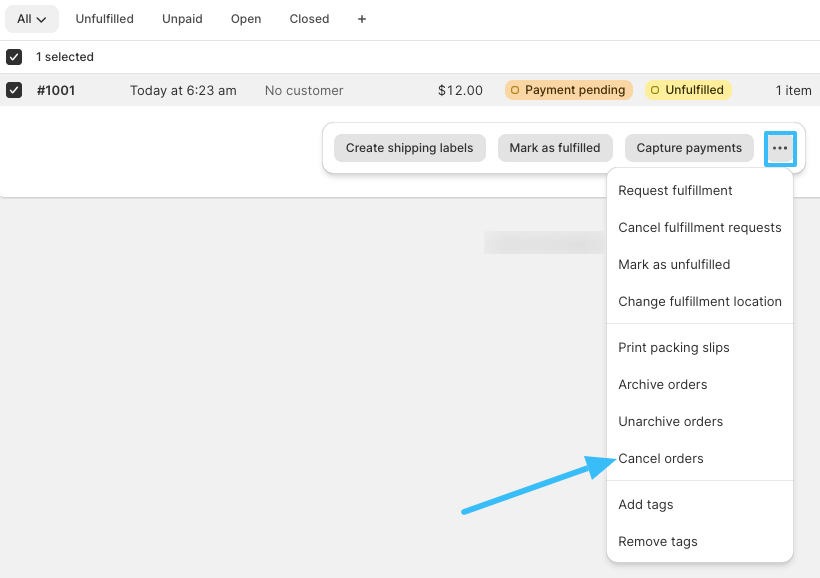 Set Refund & Restock Statuses
Next, tell Shopify whether you want to refund the customer now or at a later point (more on this later in the article), and if the product should be returned to your store inventory: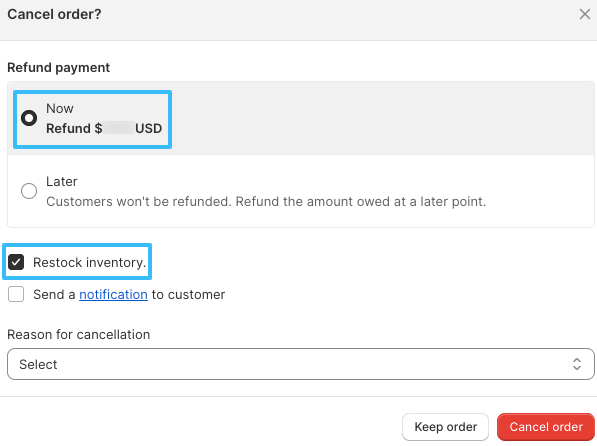 Pro tip: Take care with the Restock inventory option. By default, it's unticked. Be aware that if you tick to restock inventory, the item will reappear on your store — so if the reason for your cancellation was because you didn't have the item in stock in the first place, there's a good chance the exact same thing will happen again.
At this stage, you can also choose whether or not to notify the customer about the cancellation process.
Choose Your Cancellation Reason
At this point, Shopify asks why you're canceling the order. Choose from six options:
Customer changed or canceled order
Fraudulent order
Items unavailable
Payment declined
Staff error
Other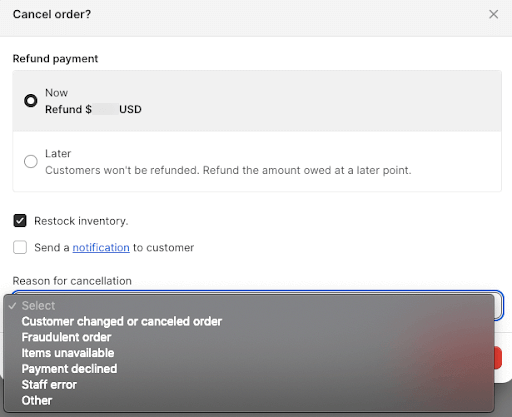 Click Cancel Order
Last but not least, hit the big, red Cancel order button to finalize your cancellation: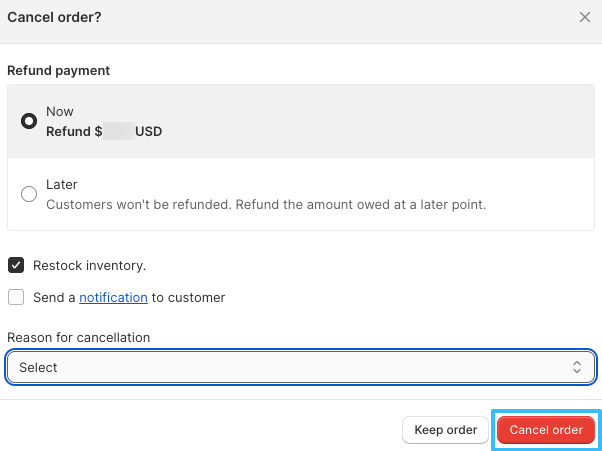 And that's all there is to it!
Increase sales by up to 175% with product badges
Use product labels to help products sell faster.
Highlight best sellers, new arrivals, almost gone, and more.
Increase sales by up to 175% with product badges
Use product labels to help products sell faster.
Highlight best sellers, new arrivals, almost gone, and more.
See the guide
Handling Refunds and Reversing Payments for Canceled Orders on Shopify
Depending on the status of the order at the time you canceled it, you might have to take some extra steps to refund the customer's payment. Let's walk through all those potential actions:
Order status
Actions required
Customer has paid, but no items are fulfilled
There are two refund options once an order is canceled:

Refund the full amount (selected by default)
Refund later (choose this option if you want to give a partial refund after canceling the order or investigate what's happened before giving a refund)

If you choose option #2, be sure to track and follow up on non-refunded orders to avoid chargebacks.

Order is fulfilled, but no payment has been taken
When you cancel an order, you can no longer take payment, so you'll need to get the item returned using Shopify's returns process.
No payment was taken and the product hasn't been delivered
No action needed! You can safely archive this order (if it hasn't been archived automatically).
Tips for Streamlining the Order Cancellation Process on Shopify
You can build a more efficient Shopify cancellation process by creating automated workflows that are triggered the second a customer cancels an order. For example, once a cancellation is received, you can automatically archive it.

There are tons of other automatable actions, including:
Adding/removing order tags
Updating order notes
Creating/deleting redirect URLs
Once you've streamlined your order cancellation process, be sure to regularly review it to identify further time and money-saving efficiencies.
The Impact of Order Cancellations on Inventory Management
Cancellations can wreak havoc on your inventory management. If you receive a bunch of cancellations in a short space of time, you might be left with a warehouse full of products that are still showing as out of stock on your inventory management system, and therefore can't be sold.
Get around this by canceling orders fast, which:
Keeps store availability aligned with real-world availability levels
Mitigates the risk of overselling low-stock or unavailable products
Reduces the chance of customer backorders
Keeping tabs on the number of cancellations you receive can also help you identify potential improvements in your fulfillment process and product availability.
Best Practices for Avoiding Order Cancellations on Shopify
Of course, the best way to improve your cancellation process is to never receive any cancellations. While that's probably not achievable, you can definitely reduce cancellations by:
Keeping inventory levels up to date
Writing accurate product descriptions
Offering size charts, realistic product images, and other product selection resources
Providing live chat support to help shoppers choose the right product first time
Clearly explaining your shipping and returns policies
Outlining additional fees and other costs before taking payment
Keeping customers up to date about order status, shipping delays, and any other issues
Other FAQs
Can I Cancel a Customer Order on Shopify?
Yes! Both merchants and customers can cancel orders on Shopify. Store owners might cancel an order if the product is out of stock, they spot a quality issue, or they suspect the transaction is fraudulent.
How Do I Cancel an Order In Progress on Shopify?
Here's how to cancel an order in progress on Shopify:
Log in to your Shopify admin and visit the Orders tab
Choose the order you want to cancel
Click More actions and select Cancel orders
Choose whether to issue an immediate refund, return the item to stock, and send the customer a notification
Select the reason for the order cancellation
Click the Cancel order button
Does Canceling an Order on Shopify Refund the Customer?
By default, when you cancel an order on Shopify, the customer will receive an automatic full refund.
However, you can instead choose to refund them later, giving you the time to investigate the issue or only issue a partial refund. But be sure to keep close tabs on non-refunded orders to avoid chargebacks.
Boost your Shopify sales by up to 175% automatically with Flair
Highlight products with badges
Promote sales with banners & countdowns
Automate with conditions and scheduling
Boost your Shopify sales by up to 175% automatically with Flair
Highlight products with badges
Promote sales with banners & countdowns
Automate with conditions and scheduling
Try Flair for FREE