Beyond Basics: A Deep Dive into E-commerce Merchandising
17 min read
created Jun 30 2023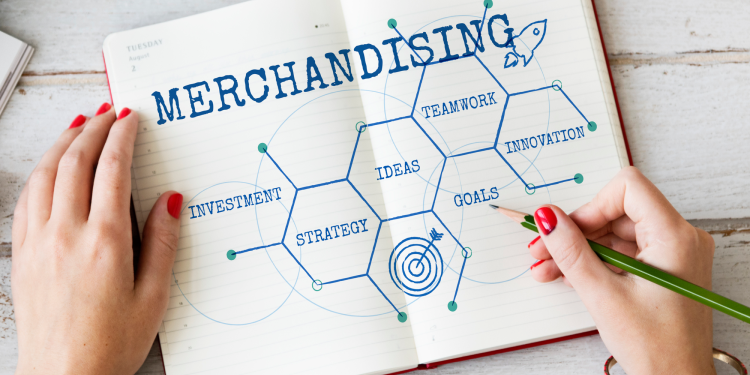 Global e-commerce revenue has almost doubled in the last five years, and there are no signs the growth will stop any time soon.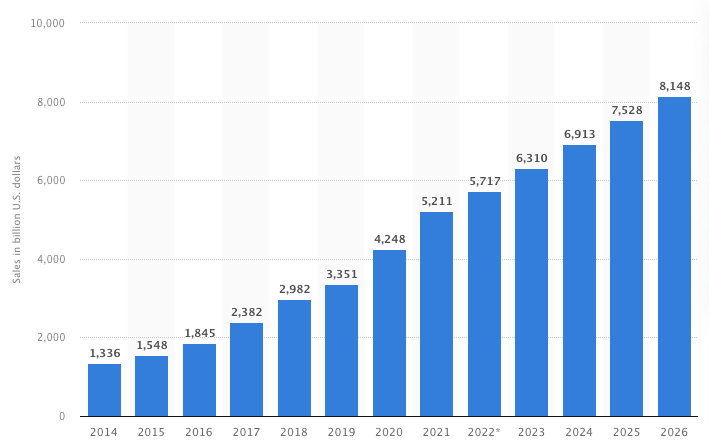 Global e-commerce revenue by year
The upturn in online shopping has been driven by various factors, from the increased popularity of major platforms like Amazon and Alibaba, to changing consumer behaviors brought about by the pandemic.
And then there's the ever-growing sophistication of e-commerce merchandising, which is precisely what we'll discuss in this article. Read on and we'll explain:
What e-commerce merchandising is (and why it matters)
The different types of e-commerce merchandising
Key elements of an e-commerce merchandising strategy
Recent trends in the e-commerce merchandising world
Common merchandising challenges (and solutions)
How to leverage data and analytics in e-commerce merchandising
Real-world examples of brands nailing e-commerce merchandising
What is E-Commerce Merchandising?
E-commerce merchandising is the process of strategically displaying and promoting products on your website to make them easy to find, drive customer interest, and boost conversions and revenue.
In the world of brick-and-mortar retail, merchandising is largely about positioning your products in the right places (like a supermarket putting a fridge full of frosty beers next to the pizza shelves).
Things get a little more complicated in the online realm, where customers typically browse one product at a time. For that reason, e-commerce merchandising is also about optimizing the path to purchase, helping customers find what they're looking for — and perhaps a little extra — no matter how they arrive on your website.
Why is E-Commerce Merchandising So Important?
There are lots of benefits to getting your e-commerce merchandising strategy spot on:
E-Commerce Merchandising Impacts Sales & Conversion Rates
It stands to reason that making your products easy to find is good for business. Because if customers can't track down what they're looking for, they're not going to buy.
But there's more to it than that. Visually appealing product and collection pages look more engaging, which can persuade visitors to click through and add items to their shopping cart.
What's more, providing detailed product descriptions — another element of e-commerce merchandising — reduces the risk of customers leaving without buying anything, with research revealing that 21% of cart abandonments come about because the website didn't provide sufficient information about the product.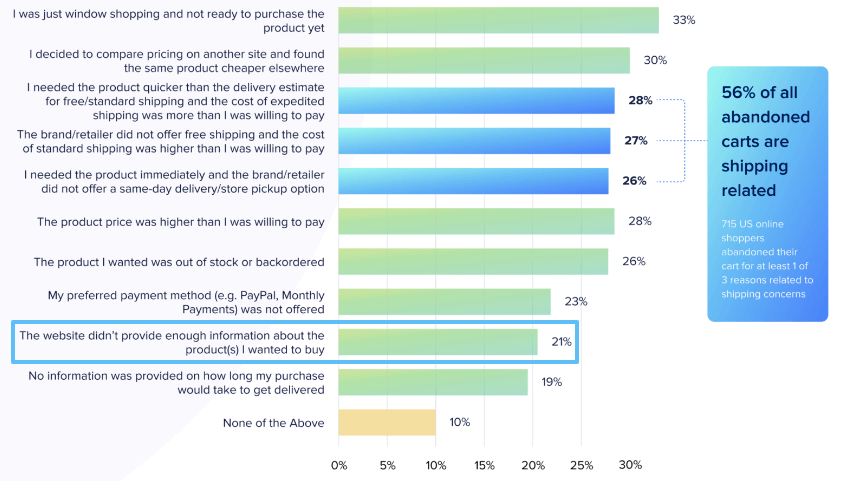 E-Commerce Merchandising Influences Customer Experience & Loyalty
Easy-to-navigate websites with useful product descriptions and attractive visual assets are more trustworthy. And consumers are more likely to buy from websites they trust. Not only that, but they'll spend more money in the process, with research from Salsify revealing that nine in ten shoppers pay more for products sold by trusted brands.
Customer experience, loyalty, and trust are the gifts that keep on giving, because when customers enjoy buying from you, there's a good chance they'll do it again and again. No wonder, then, that repeat customers account for 44% of all e-commerce revenue and 46% of orders — despite making up just 21% of the average brand's customer base.
E-Commerce Merchandising is Crucial for Branding & Differentiation
The way you present and position your products also helps you stand out from the competition.
To give a simple example, let's say you and your biggest rival both sell Ghostbusters merch.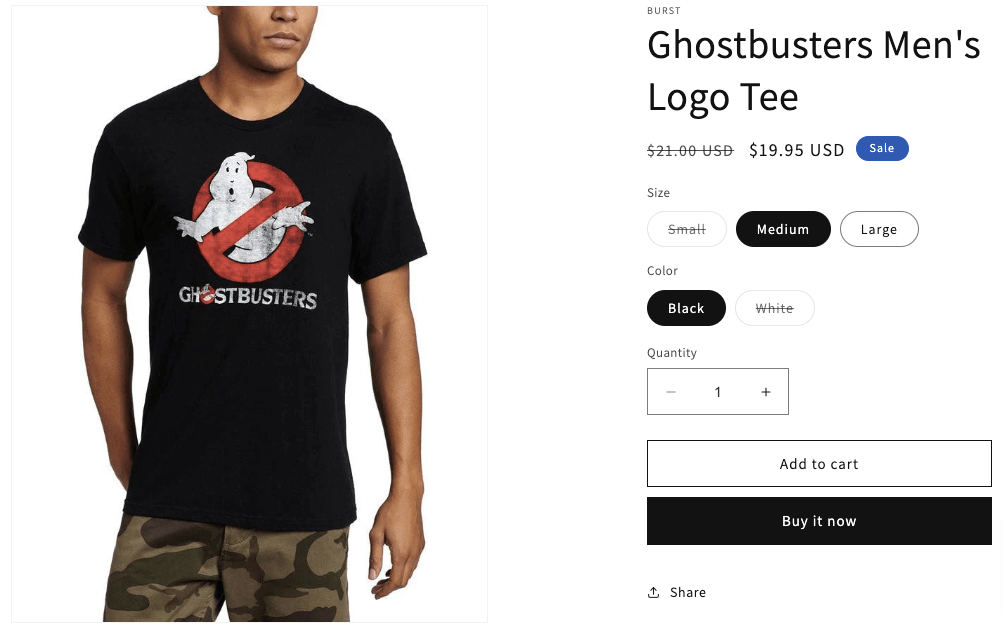 Your products are basically the same. But you take the time to capture higher-quality product imagery; you add product videos to your site, giving customers a better idea of what they look like IRL; and you write detailed product descriptions setting out sizing information and the materials they're made from.
Those key merchandising decisions are a point of difference between you and your competitor, helping you attract more customers and generate more sales.
Types of E-Commerce Merchandising
As we've already noted, e-commerce merchandising isn't a single "thing". Instead, it encompasses various elements, including:
Visual Merchandising
The most obvious example, visual merchandising is all about showcasing your online products in the most attractive way possible, using assets like:
High-quality imagery
Demo videos
3D models
Not only does (effective) visual merchandising make your products look more appealing, but it also helps shoppers get a clearer understanding of product features.
It even plays a role in communicating your brand image. For instance, fashion brands might hire professional models who match the style of their brand.
Personalized Merchandising
Three-fifths of consumers expect brands to tailor experiences based on their preferences, so it's no surprise many sites introduce elements of personalization to their merchandising.
Personalized merchandising creates bespoke shopping experiences for individual customers, informed by their previous onsite behaviors and product preferences, as well as AI-driven data analysis and predictions. It can take the form of personalized product recommendations, personalized content and offers, and even personalized website layouts.
Cross-Selling & Upselling
Because the goal of merchandising is to make your products appealing and easy to find, there's a lot of crossover with cross-selling and upselling strategies:
Cross-selling is about recommending items that complement the original product (such as suggesting shoppers buy a pair of socks along with their new trainers).
Upselling involves convincing customers to choose a higher-priced version of the original product, or to upgrade it by adding optional extras (like personalizing your new trainers with a monogram or custom colorway).
These strategies can be promoted through various tactics, including popup suggestions, product bundling, and "people also bought" sections.
Seasonal & Event-Based Merchandising
Rather than retaining the same e-commerce merchandising strategy year-round, most stores use seasonal and event-based merchandising — tailoring their promotions, product collections, and aesthetic themes to different events, seasons, and holidays.
For instance, retailers often launch seasonal ranges and offers around different seasons and shopping events (like Christmas and Valentine's Day).
This tactic makes your products and promotions seem more relevant to the customer's immediate needs, helping to stimulate demand.
Key Elements of E-Commerce Merchandising
Nailing your e-commerce merchandising is about more than taking some snazzy product photos. It touches on various elements of your overarching business strategy, including:
Product Assortment & Availability
Obviously, if your products don't align with consumer preferences, you're not going to sell much. And you need to manage availability to minimize shortages, with 73% of shoppers saying they feel less loyal to retailers after encountering out-of-stock products.
Product Presentation & Visuals
Once you've found a product your audience loves, you need to showcase it in a visually appealing manner to help drive sales. And you should present it alongside products with similar features, materials, and/or functions so customers feel compelled to buy multiple products.
Product Information & Descriptions
Writing high-quality product descriptions ensures customers have all the information they need to make informed purchase decisions. Keep your descriptions concise and easy to understand — and be sure to highlight key features and benefits.
Pricing & Promotions
Generally speaking, your prices should be competitive and represent decent value for money (while still allowing you to maintain healthy margins). Then you can use limited-time offers, discounts, product bundles, rewards, and free product giveaways to boost short-term demand and sales.
Increase sales by up to 175% with product badges
Use product labels to help products sell faster.
Highlight best sellers, new arrivals, almost gone, and more.
Increase sales by up to 175% with product badges
Use product labels to help products sell faster.
Highlight best sellers, new arrivals, almost gone, and more.
See the guide
Customer Reviews & Ratings
Reviews and ratings play a big part in the path to purchase, with 89% of consumers reading reviews before buying. Even negative reviews can be helpful, giving you an opportunity to respond in a positive way and address the reviewer's concerns, thereby presenting you as a trustworthy brand.
Optimize Search & Browse
Implementing (and optimizing) your site search functionality makes it easier for shoppers to find the right products, fast. Here's how to do it:
Invest in Modern Autocomplete
Autocomplete points customers toward relevant products without requiring them to type the full product title or description.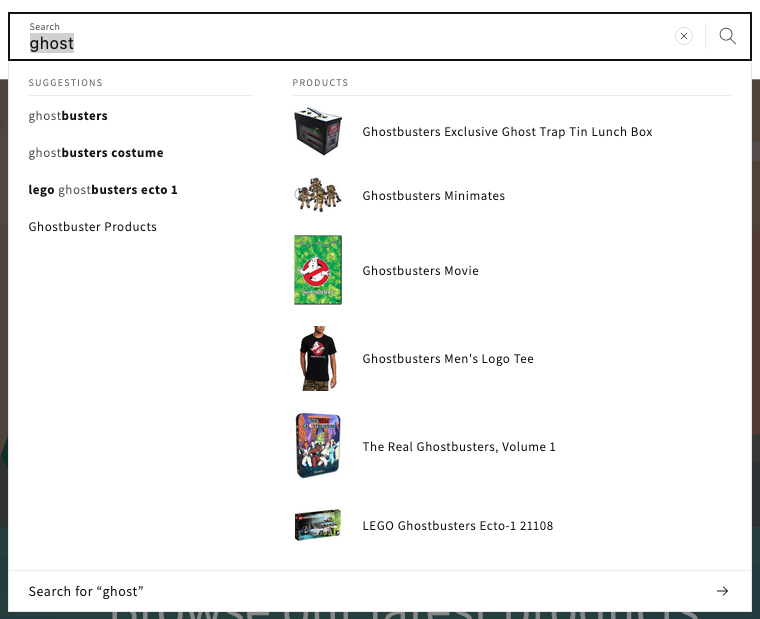 Autocomplete example
"Modern" autocomplete functions make the site search process even simpler for users by:
Detecting common synonyms (e.g. "sneakers" and "trainers")
Correcting misspellings, typos, and omitted characters (e.g. "blue ray" and "bluray")
Supporting multiple languages
Automate Search Results Re-Ranking
Site search isn't just about presenting searchers with relevant results. It also involves showing them the products they're most likely to purchase.
For instance, if 50% of site searchers looking for "women's sunglasses" purchase one specific product and 30% purchase another product, it makes sense to:
Rank the first product at the top of search results for "women's sunglasses"
Rank the second product as one of the next couple results
Enable Personalization
Your search results should also be personalized to best match the preferences of individual searches. For instance, if a shopper tends to buy a specific brand of toothpaste, it makes sense to prioritize products from that brand if they search for "toothpaste" on your site.
Optimize Site Navigation
Confusing website navigation is a surefire way to tank your e-commerce conversion rate. Use these tips to ensure your navigation is fit for purpose:
Use Filters & Faceted Search
Faceted search involves setting up smart filters that help customers quickly hone in on the right products.
Facets come in two distinct varieties:
Static facets are the same for every product search
Dynamic facets vary based on the context of the search (e.g. if a shopper searches for "jeans", you might display dynamic facets like "fit" and "color")
Incorporate Trending, Past Viewed & Recommended Products
Combine sitewide trends and personalization to create a dynamic navigation experience that prioritizes products that individual customers are most likely to buy.
For instance, if they've viewed a specific product in the past, make sure they see it again when they're next on your site. At the same time, target them with popular "trending" picks and products that align with their buying and browsing histories.
Implement Easy-to-Read Menus
Your navigation menus must be easy for shoppers to read, regardless of device type.
Simple designs are generally best here; stick with dark text against a light background, and don't include images in your menus unless they assist with your navigation goals.
Focus on Brand Identity
Finally, don't forget your branding. Display products in a way that aligns with your brand identity, including elements like your:
In an ideal world, all those different facets will combine to create a merchandising strategy that effectively showcases your product collection(s) while feeling totally unique to your e-commerce store.
Emerging Trends in E-Commerce Merchandising
Merchandising is a fast-changing world. What works one day might not work tomorrow, so it pays to keep up to date with the latest trends, such as:
Personalization & AI in Merchandising
Artificial intelligence and personalization go hand in hand. With its ability to instantly analyze vast data sets, AI makes it quick and easy to present customers with relevant messaging and offers at times when they're most likely to be in the shopping mood.
Mobile Commerce & Responsive Design
Nearly one-third of US internet users buy something online each week via a mobile device, so it's vital your e-commerce store delivers a seamless mobile shopping experience. Optimize your navigation, imagery, and descriptions to ensure they look beautiful on mobile.
Also, don't ignore mobile-specific functionality like location services, mobile payment technologies, and — of course — touch interfaces.
Sustainability & Ethical Concerns in E-Commerce Merchandising
Given that 82% of shoppers prefer a consumer brand's values to align with their own, it's no surprise that sustainability and ethical concerns are becoming a key element of e-commerce merchandising strategies. That might involve:
Sourcing sustainable, eco-friendly products
Being transparent about your environmental and social credentials
Adopting sustainable packaging, returns, and shipping practices
Using storytelling to communicate your company values
Selling locally sourced and artisanal products
Challenges & Solutions in E-Commerce Merchandising
No one's pretending e-commerce merchandising is easy — but there's always a solution. Here are some common merchandising challenges (and how to overcome them)...
Challenge
Why it matters
How to solve it
High customer expectations
Customers demand fast (and cheap) shipping, simple returns, superb customer experience, high-quality products, and affordable prices. Delivering on all of those can be tough.

Use live chat and chat bots to resolve common customer queries fast.

Over-large product selections
10% of consumers have backed out of planned purchases after being presented with too many options and 17% report feeling overwhelmed by choice — hardly surprising in a world of near-unlimited virtual shelf-space.

Optimize your store navigation and site search to help shoppers cut through the noise.
Use AI and behavior data to deliver more relevant product recommendations.

Competing on price
Getting your competitive pricing strategy right is difficult, limiting your margins and growth, particularly in highly competitive niches.

Implement dynamic pricing to adjust prices based on demand, customer behavior, and competitor activity.
Differentiate through branding, product quality, customer experience, and customer support.

No physical interaction
Obviously, online shoppers can't pick up or try on your products before purchasing, which can put some people off buying.

Add high-quality visual elements (product images, videos, interactive product models, zoom functions, and virtual try-ons)
Write detailed, accurate, and engaging product descriptions.
Leveraging Data & Analytics in E-Commerce Merchandising
Smart merchandising decisions aren't based on gut feel; they're informed by cold, hard data.
Importance of Data in Decision-Making
It all starts with data.
Data helps you make smarter decisions and execute more effective sales and promotions. It gives you the insights to understand your audience's behaviors, preferences, and goals. It enables you to develop merchandising strategies to better serve customers, thereby boosting satisfaction and sales. And it provides a meaningful way to measure the effectiveness of your merchandising decisions and identify areas for improvement.
Metrics to Track for E-Commerce Merchandising
To understand whether your merchandising strategy is working, you need to track the right metrics. These include:
Total revenue
Conversion rate
Browse abandonment rate
Cart abandonment rate
Product view to add-to-cart ratio
Average order value
Customer lifetime value
Customer satisfaction
Site-level engagement metrics — such as click-through rates and bounce rates on product pages — also offer insights into customer behaviors and satisfaction with your shopping experience.
How to Use Customer Behavior Data to Optimize Merchandising
Behavior data helps you make smarter merchandising decisions. Let's take a look at some examples of how you can use customer data to run better promotions:
Best sellers: Your best-selling products have built-in social proof (because they're best sellers for a reason). Identify your most popular products, then label them as best sellers so customers know they're in hot demand.
Frequently bought together: Adding related products to product pages presents customers with other products they might be interested in buying, thereby increasing your average order value.
Repeat purchases: It's cheaper to retain existing customers than acquire new ones, so use behavior data to share relevant promotions with previous buyers.
Product recommendations: Does an individual customer consistently browse and purchase products in a specific category or at a certain price point? Target them with recommendations that match their buying preferences.
Tools and Software for Data Analytics in E-Commerce
Choosing the right software tools makes it far easier to make data-driven merchandising decisions. Consider the following tool types…
| | |
| --- | --- |
| Tool type | Examples |
| Web analytics | |
| CRM | |
| Personalization | |
| Business intelligence | |
Case Studies: Successful E-Commerce Merchandising
Let's take a look at some real-world examples featuring companies that get their e-commerce merchandising strategies exactly right.
Amazon
A master of personalization, Amazon's e-commerce merchandising strategy revolves around delivering highly relevant product recommendations, backed up by user-friendly navigation features and a vast library of customer reviews.
The retail giant's use of big data analytics and intelligent algorithms helps it predict customer behavior needs, enabling it to deliver the right recommendations at the right time.
Zara
Zara stands out from the fast-fashion crowd with its bold visuals, which feel more like a high-end fashion magazine than an e-commerce store.
It's a far cry from competitors like ASOS and H&M, which offer more of a classic online shopping experience, giving Zara a key point of difference. Its trendy aesthetics are backed up by a constantly evolving product selection, helping the retailer remain at the cutting edge of fashion e-commerce.
Warby Parker
DTC brand Warby Parker has disrupted the eyewear industry by making it easy for shoppers to buy stylish, high-quality glasses online. It overcomes potential customer pain points with its attractive visuals, detailed product descriptions, and virtual try-on feature.
Warby Parker also makes intelligent use of customer feedback and behavior data to constantly improve how it chooses and displays products.
Conclusion
Hopefully, the tips, strategies, and case studies in this example demonstrate that effective merchandising is all about understanding your customers.
When you know what shoppers want, make it easy for them to find it, and give them the information they need to inform their purchase decisions, you're well placed to generate sales and revenue.
Not only that, but when you create an enjoyable, friction-free online shopping experience, you're more likely to attract positive reviews and repeat purchases.
What's not to like?
Boost your Shopify sales by up to 175% automatically with Flair
Highlight products with badges
Promote sales with banners & countdowns
Automate with conditions and scheduling
Boost your Shopify sales by up to 175% automatically with Flair
Highlight products with badges
Promote sales with banners & countdowns
Automate with conditions and scheduling
Try Flair for FREE
Other FAQs
What Does an E-Commerce Merchandiser Do?
An e-commerce merchandiser is tasked with organizing and managing an e-commerce store's merchandise. They choose which products the site sells, and run promotions to boost sales and maximize profits. They work with the dev and design teams to create pages that best showcase those products. E-commerce merchandisers also work closely with marketing to develop promotional campaigns and track website performance.