eCommerce Marketing Automation: From Novice to Expert
21 min read
created Jul 13 2023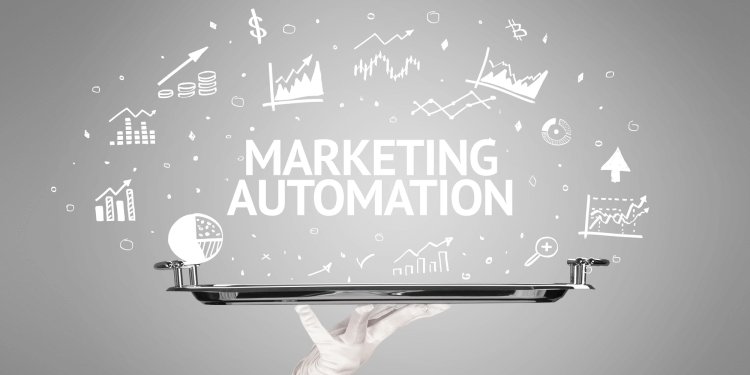 E-commerce marketing automation is all about using software tools to handle low-value "busy work", freeing you up to focus on high-value, revenue-generating actions.
There are a wealth of use cases for automation, with popular categories including email marketing, social media management, and paid ads.
In this guide, we'll discuss:
The benefits of marketing automation
Powerful e-commerce automation strategies
The best tools to enable e-commerce marketing automation
How to choose the right automation platform
What the future holds for marketing automation
Real-life e-commerce marketing automation success stories
The Current Landscape of E-Commerce Marketing Automation
As competition in e-commerce intensifies and consumer expectations become increasingly sophisticated, more and more retailers are realizing the need for marketing automation tools capable of saving time, streamlining the path to purchase, and delivering personalized messaging.
So it's no surprise that almost four in five marketers say their overall customer journey is at least partially automated.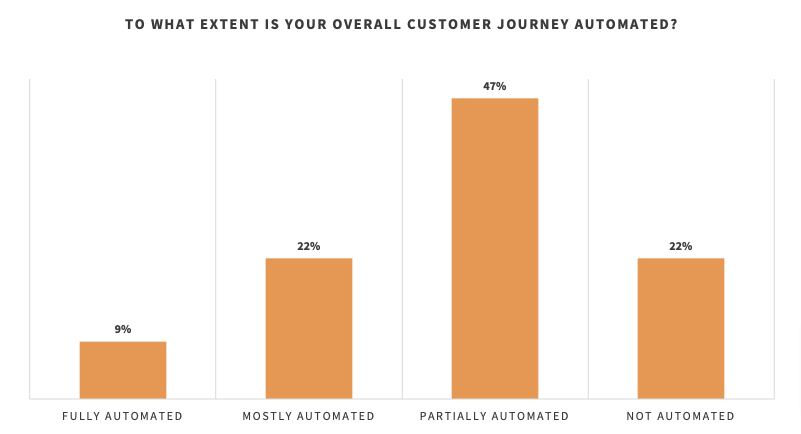 We've already noted that marketing automation software has wide-ranging use cases. But current trends include a growing focus on customer experience automation, increased adoption of AI and machine learning tools, and a desire to achieve omnichannel automation by integrating automated actions across multiple channels.
Understanding E-Commerce Marketing Automation
Before we get into anything more complex, let's tackle the fundamentals of e-commerce automation…
Basic Components of E-Commerce Marketing Automation
Automation tools and software: The specific platforms that automate various marketing tasks.
Marketing strategies and campaigns: The broader plans being enabled through automation, such as email marketing or social media posting.
Analytics and reporting: Tracking the performance to specific automations and campaigns, helping marketers make data-backed decisions.
Customer relationship management (CRM): Dedicated tools for managing customer data, opening the door to a world of segmentation and personalization.
Benefits of E-Commerce Marketing Automation
The most obvious benefit of automation is the associated efficiency savings. By handling repetitive tasks like scheduling social media posts and sending transactional emails, automation gives marketers the bandwidth to concentrate on higher-value tasks.
But that's not all.
Automation helps retailers deliver personalization at scale, based on factors like:
Customer location
Browsing activity
Previous purchases
Time between purchases
Campaign engagement
With 61% of consumers saying they expect brands to tailor experiences based on their preferences, personalization can boost your average order value, improve conversion rates, and help you drive more repeat purchases. And with three-fifths of shoppers likely to become repeat buyers after a personalized shopping experience, automation can also increase customer satisfaction and loyalty.
What's more, automated tracking and analytics give marketers access to more meaningful data, helping them make better-informed decisions.
Common Misconceptions about E-Commerce Marketing Automation
Despite the growing prevalence of automation tools, there's still plenty of inaccurate information floating around about their effectiveness.
| | |
| --- | --- |
| Misconception | Reality |
| Automation makes marketing less personal | Sure, automation requires less direct human involvement. But it allows for more granular segmentation, which actually makes our campaigns more personalized. |
| Automation is only relevant to big brands | From tiny startups to multinational retailers, marketing automation helps brands reach, engage, and convert more customers. What brand wouldn't want that? |
| Automation is a one-and-done exercise | Even if a task or campaign is fully automated, it still needs regular monitoring, analysis, and optimization from a real human. |
Essential E-Commerce Marketing Automation Strategies
Now we understand what marketing automation is (and why it's so valuable), let's consider some of the most valuable automation strategies for e-commerce brands…
Email Marketing Automation
Email is the most popular form of marketing automation, used by 55% of marketers.
It's easy to see why. Email marketing automation allows brands to send targeted sequences based on the customer's stage in the path to purchase, from welcome series to browse and cart abandonment emails to order confirmations to re-engagement campaigns.
Automation also enables sophisticated email personalization based on the individual customer's behaviors and preferences.
Social Media Marketing Automation
Scheduling social posts is an arduous task, so it's no surprise many marketers let social media automation tools do all the leg work. Automation software can also monitor social channels for brand mentions and customer feedback, helping marketers better understand their audience.
Content Marketing Automation
If you've ever spent an hour uploading a blog through your website's CMS and sharing it across social channels, you'll immediately understand the value of content marketing automation software.
As well as handling repetitive tasks like uploading and sharing content, automation tools can track the performance of your content, providing valuable insights on your audience's likes and dislikes. You can also use automation to curate content on any given subject, helping you keep up with industry trends — vital for any thought leadership strategy.
Search Engine Optimization (SEO) Automation
Search engine optimization takes a ton of work, with almost 95% of newly published pages failing to make the top 10 within a year.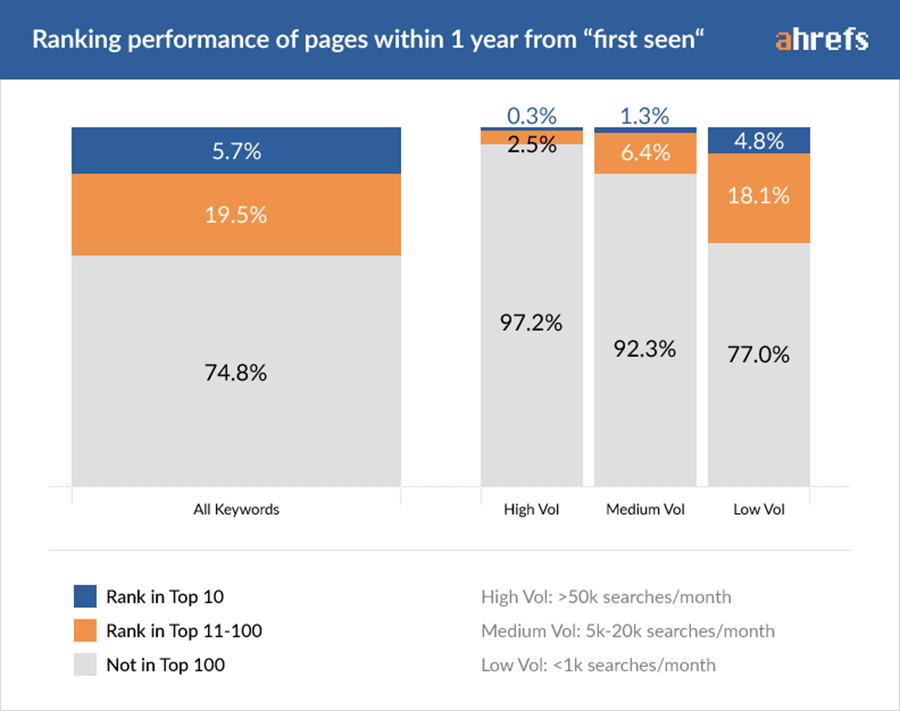 So it pays to get a helping hand from SEO automation tools, which can handle labor-intensive tasks like keyword tracking and backlink monitoring.
Customer Relationship Management (CRM) Automation
Unless you only have a handful of customers, you'll need CRM automation software to help with segmenting your customer base — paving the way for highly personalized marketing campaigns.
Automation tools can also analyze audience behavior, helping you predict future actions. For instance, if your analysis tells you a customer buys every 90 days on average, you can send them a unique discount code after 75 days to shorten their time between purchases.
Exploring E-Commerce Marketing Automation Tools
With revenue from the marketing automation industry expected to reach $13+ billion by 2030, it's fair to say there are a lot of different tools available. In this section, we'll discuss the various types of automation software you can use, including some of the top tools in each category…
Increase sales by up to 175% with product badges
Use product labels to help products sell faster.
Highlight best sellers, new arrivals, almost gone, and more.
Increase sales by up to 175% with product badges
Use product labels to help products sell faster.
Highlight best sellers, new arrivals, almost gone, and more.
See the guide
Email Marketing Tools
Tools in this category help marketers automate any type of email campaign you can name, from newsletters to transactional emails to promotional emails.
App name
Top features
Customer rating
Price
Mailchimp

Accelerate email creation, design, and performance analysis with 20+ AI and data tools.
Access 100+ customizable email templates.
A/B test different subject lines, designs, email content, and send times.

4.3/5 from 12,300+ reviews
Free plan includes 500 contacts and 1,000 emails a month. Paid plans start at $13/month for 500 contacts and 5,000 monthly emails.
Constant Contact

Create emails fast, with 100s of templates and a simple drag-and-drop editor.
AI and automation tools generate email content and subject line recommendations.
Built-in event marketing allows users to create registration forms and email invites, sell tickets, and track RSVPs.

4/5 from 5,600+ reviews
From $12/month for 500 contacts and 5,000 monthly emails.
GetResponse

Build automated email sequences to follow up with and nurture subscribers.
Deliver emails at the right time with automated email delivery tools.
Use SMTP-triggered emails to send transactional emails.

4.2/5 from 800+ reviews
Free for up to 500 contacts and 2,500 monthly emails. Paid plans start at $13.30/month for 1,000 contacts and unlimited emails.
Social Media Automation Tools
Use social media automation software to schedule posts, monitor engagement, and analyze performance across multiple social channels.
App name
Top features
Customer rating
Price
Buffer

Plan and publish content across multiple social channels from a single dashboard.
Generate content ideas, repurpose existing posts, translate content with Buffer's AI assistant.
Queue content on an automated schedule or choose custom times for each post.

4.3/5 from 900+ reviews
Free planning and publishing tools for up to three channels. Paid plans start at $6/month for one channel, including engagement and analytics tools.
Hootsuite

Plan hundreds of posts in advance with Hootsuite's bulk social scheduler.
Generate AI-based content suggestions from a simple prompt.
View published and scheduled content in a calendar or list view.

4.1/5 from 3,900+ reviews
From $99/month for one user and 10 social accounts.
Sprout Social

Plan your publishing strategy and maintain oversight from a central hub.
Add product tags and links to posts by connecting your Instagram, Shopify, and Facebook Shops catalogs.
Automatically find the best publishing times to reach your audience.

4.4/5 from 2,500+ reviews
From $249/month for five social profiles.
CRM Tools
With CRM software, you can efficiently manage customer data and cut and slice your audience into segments, enabling you to deliver personalized marketing campaigns.
App name
Top features
Customer rating
Price
Salesforce

Leverage sales forecasting, reporting, and management tools.
Track customer interactions to help your support team resolve queries.
Access data to build personalized omnichannel campaigns.

4.3/5 from 14,600+ reviews
From $25/month per user.
HubSpot

Track and analyze sales activity in real time.
Automatically organize, enrich, and track each CRM contact.
Create, send, and analyze bulk email campaigns.

4.4/5 from 10,300+ reviews
HubSpot offers a free CRM. Paid plans start at $50/month for two users.
Zoho CRM

Follow up with customers via email, phone calls, chat, Facebook, Twitter, and more.
Accelerate processes with built-in capabilities for assignments, escalations, validations, and more.
Create custom reports and dashboards to inform decision-making.

4/5 from 2,400+ reviews
Free for up to three users. Paid plans start at $23/month.
SEO Tools
SEO-based automation tools help marketers analyze web traffic, carry out keyword research, and optimize their websites to boost search rankings.
App name
Top features
Customer rating
Price
Semrush

Discover the organic and advertising value of any keyword based on search volume, intent, keyword difficulty, and more.
Generate thousands of keyword combinations from one seed keyword.
Get actionable solutions to fix your website's SEO issues.

4.5/5 from 1,700+ reviews
From $119.95/month for five projects, 500 trackable keywords, and 10,000 results per report.
Moz Pro

Find keyword opportunities by seeing thousands of suggestions and comparing ranking sites.
Predict keyword performance based on search volume estimates with 95% accuracy.
Get a prioritized list of recommendations for any keyword and page combination.

4.4/5 from 370+ reviews
From $99/month for three campaigns and 300 keyword rankings.
Ahrefs

See what keywords your competitors are ranking for and which pages bring the most search traffic.
Find "low-hanging fruit" with Ahrefs' keyword difficulty score.
Access advanced SEO metrics like return rate, clicks per search, percentage of paid clicks.

4.6/5 from 470+ reviews
From $99/month for unlimited reports and 750 tracked keywords.
Content Marketing Tools
Use content marketing automation tools to help create, distribute, and track the performance of your content across multiple channels.
App name
Top features
Customer rating
Price
Keyword Insights

Reveal the keywords your competitors are targeting (and already rank for).
Create content outlines in minutes based on data from the top 20 ranking pages.
Generate AI summaries of all the content under important outline headings.

4.9/5 from 11 reviews
From $49/month for up to 6,000 keywords, 60 content briefs, or 12,000 searches.
BuzzSumo

Find viral or evergreen content ideas, with keyword data ranging from 24 hours to five years.
Explore high-demand keywords and analyze the subheadings, structure, and content of top-ranking headlines.
Browse five billion articles of social engagement data.

4.5/5 from 100 reviews
From $119/month for one user and unlimited searches.
Yoast SEO

Get real-time feedback for all your content.
Identify optimization opportunities, like hard-to-find unlinked content on your site.
Learn how to add keywords without stuffing.

4.6/5 from 140+ reviews
From $19/month for Shopify stores or $99/month for WordPress sites.
Benefits and Limitations of Various Tools
There's lots to like about e-commerce marketing automation software. All the tools in the above tables help you work more efficiently by automating mundane, labor-intensive tasks. They're also super scaleable, and many play a key role in improving personalization, customer experience, and data analysis.
However, there are a few potential drawbacks to consider, too. Automation tools can be expensive — not just in terms of subscription fees, but also the training required to get your team up to speed with a new platform. They need constant monitoring and optimization to ensure they're working as intended. And they force you to rely on support from a third-party vendor; if something goes wrong, you can't just fix it yourself.
Choosing the Right Marketing Automation Platform
We've looked at some of the top marketing automation tools across various categories. But how can you tell which — if any — of them is best for you?
Practical Tips For Choosing the Right E-Commerce Automation Tools
There's no such thing as a universally perfect e-commerce marketing automation tool. Rather, the best solution for your needs will depend on a range of factors unique to your business. Use these tips to make the right choice:
Before searching for a tool (or even considering a software category), define your specific needs and marketing goals.
Look for tools that you can afford and that align with your deployment capabilities (e.g. if you need an immediate solution, don't choose a tool requiring six months of training and onboarding).
Check out customer reviews on platforms like G2, TrustRadius, and the Shopify App Store before making your choice.
Additionally, bear in mind that most automation tools offer free trials or free product tiers. You can go some way to mitigating the risk and expense of a bad software purchase by signing up for one of these and testing key functionality before agreeing to a long-term subscription.
Key Features To Look For in an Automation Platform
Now, let's get more specific. Here are some of the most important features and characteristics you should search for when choosing an automation solution:
Compatibility: Choose a platform that integrates smoothly with the rest of your martech stack.
Scalability: Search for platforms that can grow with your business so you're not forced to migrate to a new tool a couple years down the line.
Segmentation: Make sure your preferred platform helps you segment your target audience and reach them with personalized campaigns.
Usability: Ideally, your chosen platform should be user-friendly, shortening time to value.
Analytics: Look for a solution capable of delivering the _meaningful _insights required to make data-driven decisions.
Support: When browsing reviews, ensure your favored platform delivers excellent customer and technical support.
Best Practices for E-Commerce Marketing Automation
You've chosen an automation platform that meets your various business needs, helping you save time, personalize your marketing, and deliver more engaging customer experiences. Congratulations! Now, let's consider how to make best use of your new tool…
Personalization in Automation
One of the biggest benefits of marketing automation is the ability to build scalable campaigns that feel tailored to individual customers.
Use data and audience segmentation to personalize onsite content and offers based on customer behavior and preferences, share relevant product recommendations in your email newsletters, and humanize your customer support interactions.
Balancing Automation and Human Interaction
Getting the maximum possible benefit from marketing automation tools is partly about understanding the limitations of your chosen platform.
Sure, automation is powerful. But remember that some actions still need a human touch — particularly in situations that require creativity, empathy, and out-of-the-box thinking.
Automate low-value, repetitive tasks, giving your team the freedom to create better content, engage audiences on social media, and deliver more satisfying customer support.
Ensuring Consistency Across Different Platforms
Automation makes it easier than ever to develop truly multi-channel e-commerce marketing strategies. Create campaigns that match your brand style and tone of voice, then automate them so customers receive consistent messaging — however they choose to interact with you.
Regular Testing and Optimization of Automation Strategies
Remember: automation doesn't always know best.
Use the time saved by your new software to continuously optimize your strategies and campaigns. Regularly review performance and plan A/B tests to understand what resonates best with your audience.
Staying Updated with E-Commerce and Marketing Automation Trends
The world of automation moves fast. Look out for new trends, tools, and use cases to enhance your strategies and create more efficiencies, and test new platforms and features to assess their potential impact on your campaigns.
The Future of E-Commerce Marketing Automation
Where is marketing automation going next? Let's take a look…
Emerging Trends in Marketing Automation
Here's a brief roundup of some of the biggest new developments in the world of marketing automation:
Hyper-personalization. By combining analytics, data, AI, and automation, marketers can create highly targeted and contextualized experiences to specific customers, at scale.
Predictive analytics. With its ability to analyze customer data at vast scale, marketing automation makes it possible to predict what individual shoppers will do next based on previous behaviors.
Customer experience automation. Extends far beyond the realm of marketing, instead focusing on the _entire customer journey _— from acquisition to retention. Automation helps brands remove the friction between each of those phases.
Multi-channel marketing. Automation helps marketers run truly multi-channel campaigns targeting customers (and _potential _customers) at exactly the right time across email, social, SMS, and more.
Voice search. AI and automation combine to help software programs receive, understand, and respond to voice commands and queries, opening up a whole new avenue for search.
Chatbots. These automated tools are capable of dealing with increasingly sophisticated customer queries, helping e-commerce brands drive conversions while reducing the strain on customer support teams.
Virtual reality. Automated AI algorithms can detect and track objects in real time, creating virtual experiences that adapt to the customer's actions and environment. This enables experiences like virtual fitting rooms.
The Impact of AI and Machine Learning on Marketing Automation
As you can see, there's no shortage of trends in marketing automation. Now, let's look at some of the ways these advanced technologies can be applied by e-commerce brands:
Chatbots for customer service. These onsite tools can point customers toward relevant products and informative resources, as well as answering questions about common topics like shipping times and costs. If necessary, they can also connect the customer with a human support agent.
AI for content creation. Generative AI is capable of producing content in a fraction of the time of a human writer. While the long-term SEO benefits of AI content aren't currently clear, it can definitely help you create content at scale — useful for tasks like writing product descriptions.
Machine learning for customer behavior prediction. The better you know your customers, the easier it becomes to predict their next move. By automating customer data analysis, you can share targeted promotions and messaging at times when individual users are most likely to buy.
Preparing for Future Changes in E-Commerce Marketing Automation
Making the most of e-commerce marketing software requires a commitment to continuous learning and adaptation, including:
Investing in new automation technologies
Training your team on new features and use cases
Developing flexible marketing strategies to capitalize on emerging trends
Fortunately, you don't have to do it all alone. Follow marketing automation thought leaders like Mike Volpe (formerly of HubSpot), Oracle's Chad White, and Ann Handley of MarketingProfs to keep abreast of new developments.
And look out for industry events like the MarTech Conference and the Content Marketing Institute's ContentTECH Summit to pick up insights from industry leaders and peers.
Case Studies and Real-Life Examples
We've heard a lot about the theoretical potential of e-commerce marketing automation. But how are real brands using automation tools to achieve their marketing goals? Let's take a look at three case studies from the e-commerce world…
Haute Hijab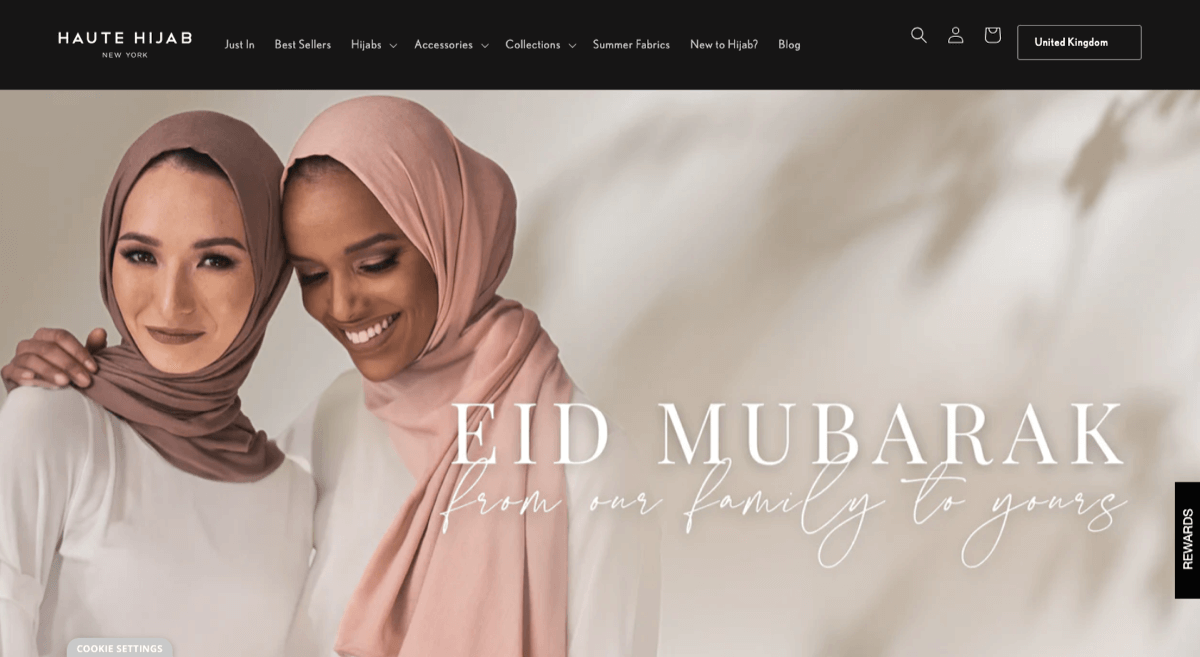 Haute Hijab sell premium hijabs in a range of materials. They wanted to replicate the in-store customer experience online, so they developed an onsite quiz to understand individual customers' preferences.
That's where marketing automation comes in.
By gathering all that data and segmenting audiences into preference and behavior-based groups, Haute Hijab have seen significant upticks in revenue from email and SMS campaigns. Why? Because they're sending personalized offers to engaged segments, rather than blasting generic communications to their whole list.
Automation also allows them to gather data from their Shopify store — such as purchase history and frequency — and use it to personalize SMS messages, emails, and ad copy.
Since shifting to their current marketing automation platform, Haute Hijab have seen a 30% increase in average order value.
Sock Club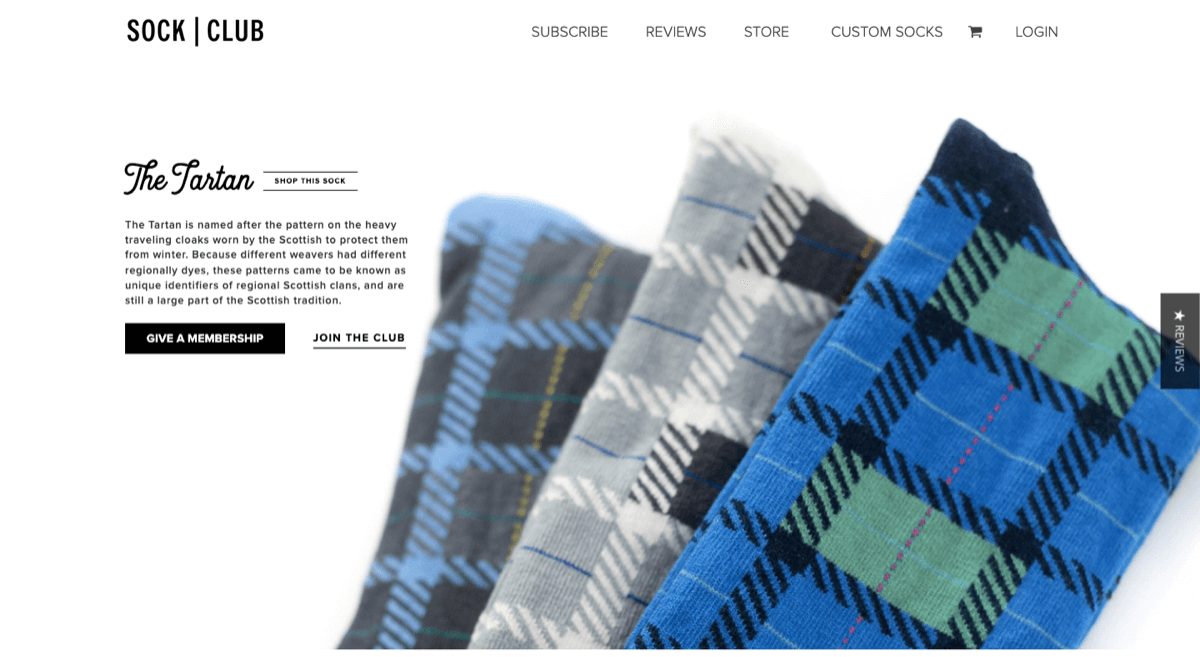 Sock Club started in 2012 as a sock subscription service, before launching a custom sock line in 2014. Since then, they've created custom socks for big names like Coca-Cola and Google, who use them as trade show giveaways and employee gifts.
Marketing automation allows Sock Club to develop several automated workflows for deeply personalized campaigns. For instance, they replaced hard-to-track email blasts with follow-up sequences targeted at e-commerce leads, helping them steadily improve open and conversion rates (while slashing the number of emails sent manually).
However, arguably the most impressive result has been halving their average sales cycle length from 22 days to just 11.
TruWood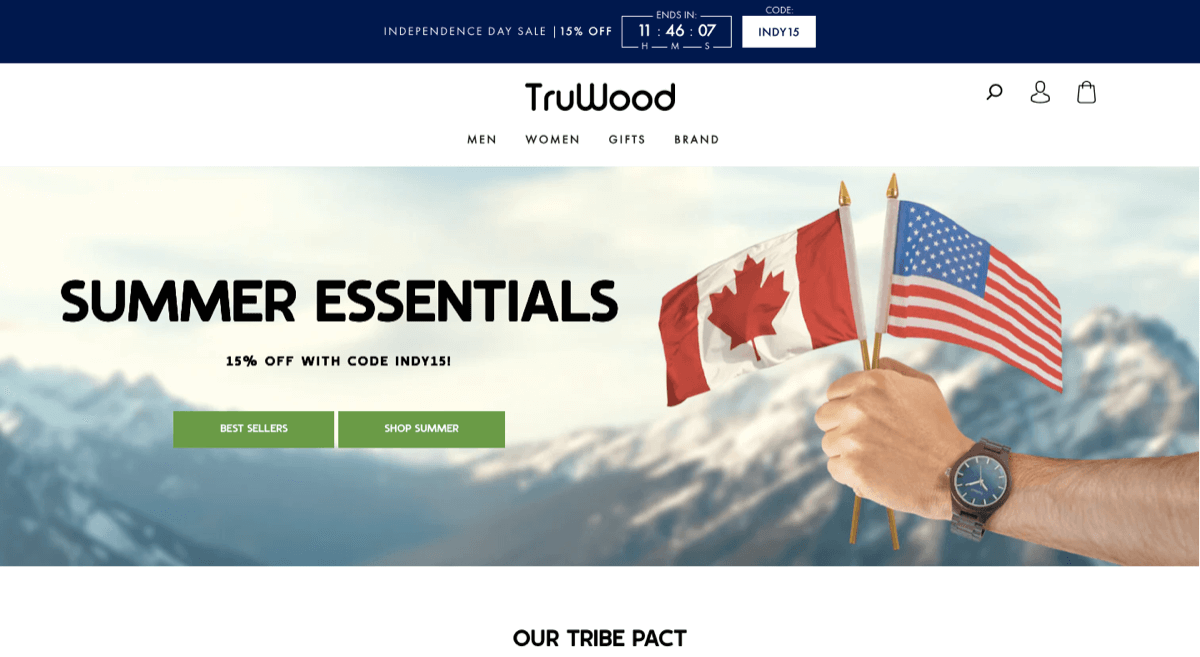 Canadian e-commerce brand TruWood make watches from wood, bamboo, and reclaimed lumber.
Their marketing previously relied on mass advertising through Facebook and Google. But they wanted to switch focus to building a community of loyal, satisfied customers, so they developed an automated SMS marketing strategy targeting site visitors who abandon their shopping carts.
TruWood segment customers based on cart value. High-value leads are sent MMS messages containing an image of the product they abandoned and a small discount to close the deal.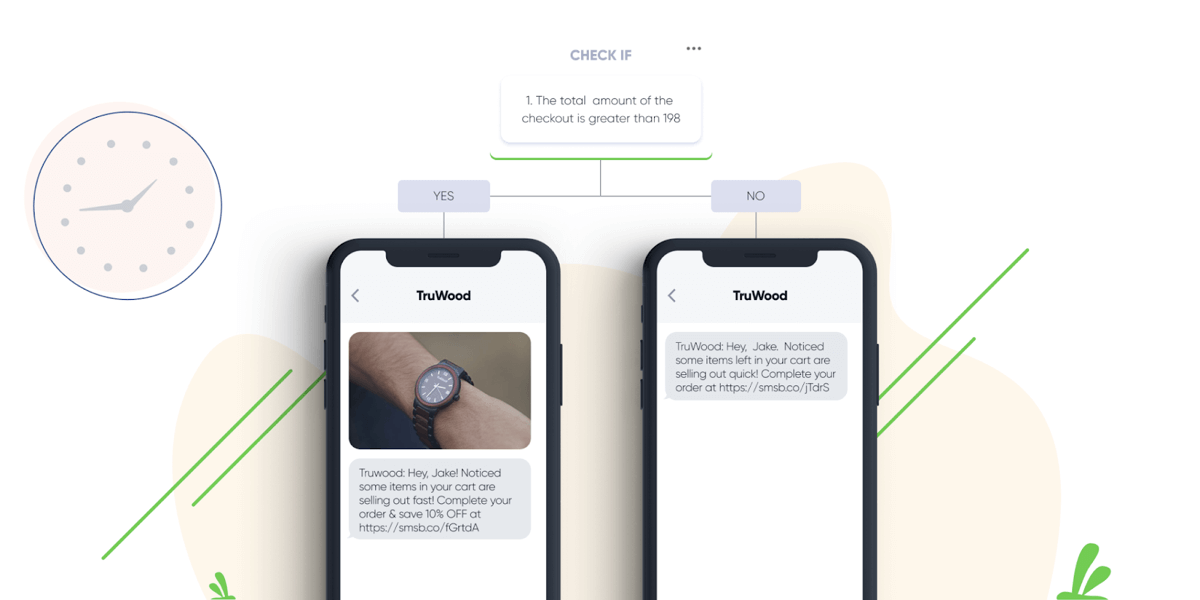 The abandoned cart campaign also uses FOMO to drive immediate action by limiting the discount to just a few hours.
Since adopting the new, automated strategy, TruWood have generated a return of $62 for every $1 invested.
Boost your Shopify sales by up to 175% automatically with Flair
Highlight products with badges
Promote sales with banners & countdowns
Automate with conditions and scheduling
Boost your Shopify sales by up to 175% automatically with Flair
Highlight products with badges
Promote sales with banners & countdowns
Automate with conditions and scheduling
Try Flair for FREE
Conclusion
From email platforms to SEO tools to CRM systems, e-commerce marketing automation solutions are ultimately about boosting sales and revenue by sharing more engaging campaigns.
Of course, automation isn't the only way to deliver those results.
Want to turn more website visitors into loyal customers? Check out our in-depth guide to increasing Shopify conversion rates!