Managing Multiple Shopify Stores: Tips & Best Practices
14 min read
created Jun 29 2023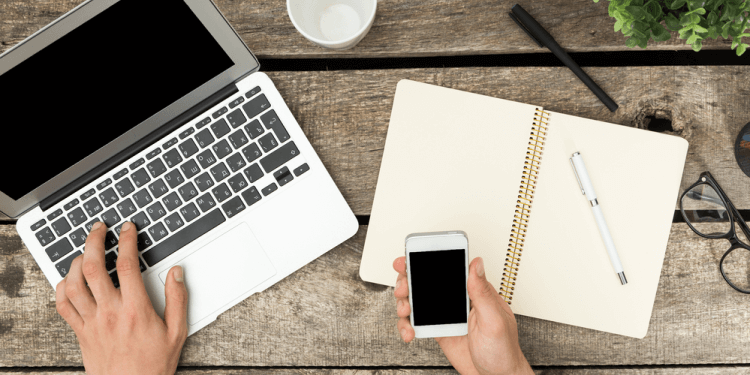 One option for growing an ecommerce business is to open a new store targeting a whole other subset of customers.
Because if you only sell lemonade in Macon, Georgia, you've got a limited market. But if you open a second stand in Augusta, or launch a separate Macon store selling cherry cola, you've significantly increased your audience — meaning more opportunities for sales.
In this article, we're going to talk specifically about running multiple Shopify stores under a single account. Read on to learn:
Why it might make sense to open multiple Shopify stores
How to launch multiple stores with regular Shopify plans and Shopify Plus
Best practices for managing multiple stores
Why Run Multiple Shopify Stores?
On a basic level, running multiple Shopify stores is all about reaching a wider target audience, thereby helping you drive more sales. That might involve:
International Expansion
Expanding into different countries might require a totally different approach to selling.
You may need to change your messaging, your store layout, and even your products to resonate with customers in your new location. Not only that, but you might face a bunch of administrative challenges, such as different local regulations, languages, currencies, and taxes. It's pretty tough to address all of those factors from the confines of a single store.
For that reason, Nike has created localized stores for dozens of international markets (including this dedicated French-language site).

The goal here is pretty simple: By maintaining multiple Shopify stores for different countries, you can provide a better experience for customers in each location — increasing your chances of success — while ensuring you comply with local laws.
Pro tip: One simple solution for creating multiple Shopify stores targeting different locations is to use Shopify Markets. We'll discuss this in more depth later in this article.
Target Different Audiences
Some retailers have very different target audiences.
Take Nordstrom as an example. On one hand, it's a luxury department store chain selling designer fashion — exactly the type of products showcased on the main Nordstrom website: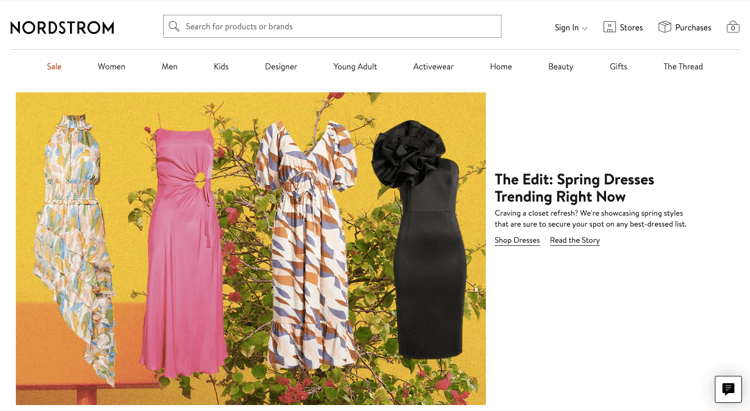 But it also targets bargain-hunting shoppers through Nordstrom Rack, which is packed with discount-related messaging that would look out of place on the brand's main site.

Or you might have a wholesale website targeting B2B buyers alongside a traditional ecommerce store aimed at regular consumers.
In scenarios like these, operating multiple Shopify stores helps you meet the needs of niche customer segments without putting off your wider audience or damaging your flagship brand.
Run a Different Shop Entirely
The previous two examples demonstrate how opening multiple Shopify stores can benefit a single brand.
But what if you run a single ecommerce business serving audiences across totally disparate markets and verticals? In that case, you might want to open a separate store every time you identify a new gap in the market.
For instance, Zappos runs its own ecommerce store that predominantly sells shoes…

…but it also operates 6pm, a separate store with a greater focus on apparel and accessories.

While there are benefits to this scattergun approach, we wouldn't necessarily recommend it. Managing multiple stores takes a whole bunch of time; don't let your desire to find the "next big thing" distract you from running your main store.
Multiple Stores on Shopify: Your Questions Answered
We've established a few use cases in which you might want to add a new store to your portfolio. Now, let's answer some common questions about opening multiple stores on Shopify…
Can I Have Multiple Shopify Stores?
In a word: yes. Provided you're happy to use different Shopify accounts, you can open as many stores as your heart desires.
However, if your goal is to manage all those stores under a single account and email address, things get a little trickier…
Can You Run Multiple Shopify Stores With the Same Email Address?
You can manage multiple Shopify stores from the same email address, switching between each store when you log into the Shopify admin. But keep in mind that you can't create a new store that shares the name of your existing store.
Can I have Multiple Shopify Stores on One Account?
You can have multiple Shopify stores on a single account, but only if you shell out for Shopify Plus, which currently costs $2,000+ per month. If you're happy to pay for Plus, you're theoretically free to open as many stores as you like (although you'll have to pay an extra $250 per month for each new store you create after your 10th store).
Of course, the vast majority of online retailers aren't in that boat. They don't have thousands of dollars a month to spend on Shopify. Unfortunately, there's no way to run multiple stores through a single standard Shopify plan 😭.
Building Multiple Stores With Regular Shopify Plans
Shopify's "regular" (i.e. non-Plus) plans are:
Those plans account for the bulk of Shopify subscribers. If you're one of them, you need to create an account for each new store you launch. However, you can register each of those accounts and stores under the same email address.
How to Switch Between Shopify Stores
Once you log in to your Shopify admin, you can navigate between your various stores using the store switcher.
Bear in mind that you need to verify your email address — plus those of your staff — for each store before you get the ability to switch between them. Also, it's worth noting that frozen, paused, and closed stores don't show up in the switcher (but if you reactivate them at a later point, they'll be added to the dropdown list).
What are the Challenges of Managing Multiple Shopify Stores?
Unless you're willing to pay for Shopify Plus, managing multiple stores through Shopify presents a few challenges. Common issues include:
Order processing and management. Unless you're running a bunch of totally different ecommerce businesses, you might receive orders for similar products from multiple websites. This can make it hard to manage and process orders correctly, increasing the risk of human error.
Inventory tracking. Managing a single product pool across multiple sites also makes it hard to accurately track inventory levels, meaning you might incorrectly tag a product as in (or out of) stock. With research warning that 73% of consumers feel less loyal to retailers after experiencing product unavailability, this can seriously damage your brand.
Managing product data. If your stores are structured differently, it can be tough to organize product data across each site, potentially leading to errors with product titles, descriptions, images, and prices. Again, this risks putting off customers.
SEO. Running multiple stores can pose various SEO challenges. For starters, SEO takes a lot of work, given that just 5.7% of new pages rank in the top 10 search results within a year of publication. Also, if you're duplicating content across multiple stores, you risk confusing the search engines — which might impact your rankings.
Best Practices For Managing Multiple Shopify Stores
Now that we're fully versed in the challenges of running multiple Shopify stores, let's look at some best practices to help you deliver the best possible results…
Increase sales by up to 175% with product badges
Use product labels to help products sell faster.
Highlight best sellers, new arrivals, almost gone, and more.
Increase sales by up to 175% with product badges
Use product labels to help products sell faster.
Highlight best sellers, new arrivals, almost gone, and more.
See the guide
Tip #1 - Focus on a Central Theme
A survey of 400+ brand management experts predicted that when businesses consistently maintain their brand image, they stand to enjoy an increase in revenue of up to 20%.
So you've hopefully taken the time to build a brand identity; something that helps customers recognize your store and content from the legions of competitors out there. In which case it makes sense to maintain your branding across each of your Shopify stores.
McDonald's does this better than most. Take a look at its Thai site…
…and its Mexican store:
Sure, the sites are promoting different products in different languages, but it's still immediately obvious that they're both McDonald's websites.
Tip #2 - Manage Inventory and Orders Through PIM
Remember when we said only Shopify Plus subscribers can run multiple stores from a single account? We kind of lied, because there's a workaround: buying a product inventory management (PIM) solution.
It's still not as simple as operating several stores through one Shopify account, but it does give you a dashboard-based overview of all your stores from a single platform.
If you're a dropshipper, you can also use a PIM to sync your store(s) with your supplier, helping customers understand what's in and out of stock without requiring any action at your end.
There are lots of PIM solutions on the market; Shopify-friendly options include:
Tip #3 - Get a Help Desk
Running an ecommerce store is rarely easy. Managing multiple Shopify stores makes things a whole lot harder; kind of like juggling balls and spinning plates at the same time.
An ecommerce help desk can help, giving you a central platform to track and handle all your customer service queries across multiple stores, wherever they come from. That's right: whether someone slides into your Insta DMs, emails you, or completes an onsite contact form, you can log the information and respond from a single browser window.
Not only that, but you can create saved replies to frequently asked questions about things like:
Shipping costs
Returns and exchanges
Product sizing
That way, your team doesn't have to craft a new response each and every time they're asked a similar question.
Tip #4 - Take Advantage of Shopify Apps
There are 8,000+ apps in the Shopify App Store, many of which can help you overcome some of the biggest headaches of running multiple. We've picked out the very best across multiple app categories and use cases:
Store Copy Apps
Migrating products to a new store is a long, arduous, and — frankly — boring process. These apps make it easier…
Matrixify

Formerly known as Excelify, Matrixify allows you to conduct a simple store migration in just a couple clicks by importing all fields from your existing store (or just a select few — it's up to you). You can also schedule and auto-repeat imports for new files and back up your store's data. Prices range from $20 – $200 per month, or you can carry out 10 imports free of charge.
Rewind Staging

Rewind Staging (FKA Store Copy) is another site migration tool that lets store owners choose which details they want to copy. It offers unlimited data imports for $99 per month and includes a seven-day free trial.
Multiple Store Admin Apps
Use these tools to lessen the administrative burden of running multiple Shopify stores…
Syncio

As the name suggests, Syncio is a multi-store product sync and inventory management tool that allows users to update the same product across multiple Shopify stores via just a few clicks. Prices start at $19 per month for stores with up to 100 products. Syncio also offers a 14-day free trial.
Multi-Admin by Multify

Multi-Admin makes it easy to sync products, collections, orders, customer data, reporting, and customer support queries across multiple Shopify stores and view all your operational information in a single dashboard. It's a great tool, but it's not cheap, with prices starting at $499 per month for up to two stores.
Customer Support Apps
Given that over half of Americans are prepared to pay more if they know they will receive great customer service, it definitely pays to get your customer support in order. These apps can help…
Gorgias

Gorgias is a centralized dashboard for support queries across all your Shopify stores, giving you the power to track requests through a ticketing system and process refunds, cancellations, and duplicate orders from within the app. It's also capable of sending automated responses to simple requests. Prices start at $10 per month for up to 50 monthly tickets.
Re:amaze

Re:amaze provides a mass inbox for all customer messages. Not only that, but it incorporates an FAQ tab, helping you build a database of answers to common questions. Its analytics functionality allows you to view response times and feedback for individual agents. Prices start at $29 per month (or save 5% by choosing an annual plan).
Translation Apps For Multi-Languages Store
Branching out into a new territory and don't fancy translating your web copy word for word? These apps can handle it all for you…
Langify

Once you install Langify, you can start translating your content into additional languages without entering a single line of code. It follows international SEO best practices, such as creating language-specific URLs for all pages and optimizing hreflang tags. Langify comes with a seven-day free trial, after which you can get unlimited translations, imports, and exports for $17.50 per month.
Weglot

Weglot's appropriately named Shopify Translation App can instantly translate your Shopify store and display it under language subdomains or subdirectories. It's compatible with all Shopify themes and popular apps like Klaviyo and Sufio. Like Langify, it also follows SEO best practices around hreflang tags and local language URLs. Prices start at $15 per month for one translated language and up to 10,000 words.
How Much Does It Cost to Run Multiple Stores on Shopify?
This is one of those "how long is a piece of string?" questions, because it all depends on your preferred approach. But we'll try to figure it out with some basic calculations:
| Expense | Cost for one store | Cost for two stores |
| --- | --- | --- |
| Basic Shopify | $29/month | $58/month |
| Theme template | $0 – $180 (one-off) | $0 – $360 (one-off) |
| Shopify apps | $193.26/month (based on average of six apps per store at $32.21 per app) | $386.52/month+ (based on buying a new license for each store) |
That gives us potential costs of:
$222.26/month for one store, plus an upfront cost of up to $180
$444.52/month for two stores, plus an upfront cost of up to $360
And those costs may keep increasing if or when you launch further new stores. By which point it might be worth buying a Shopify Plus subscription — especially if you're considering shelling out for expensive apps like Multi-Admin.
Building Multiple Stores With Shopify Plus
There's no doubt Shopify Plus is the most convenient option for running multiple stores. And if your app costs are adding up, it might be the most cost-effective choice, too. Here's how to build multiple stores within the Shopify Plus admin…
Step 1: Start With the Basics
Navigate to the Shopify organization admin.
Select Stores.
Click on Create store.
Choose your Store type from the drop-down menu.
Enter a name and URL for your new store in Store details.
Step 2: Select Your Apps (Optional)
Step 3: Import Your Themes
Navigate to Themes.
Select Import themes.
Choose the themes you want to import.
Optional: Pick a theme from the list titled Choose a theme to publish in your new store.
Optional: If you don't want to import files to your new store, deselect Import all files.
Click on Done.
Step 4: Import Your Staff
Navigate to Users > Import users.
Select the staff you want to import.
Click Done.
Step 5: Create Your Store
Click Create store, then log into your new store and carry out all the necessary customizations.
Boost your Shopify sales by up to 175% automatically with Flair
Highlight products with badges
Promote sales with banners & countdowns
Automate with conditions and scheduling
Boost your Shopify sales by up to 175% automatically with Flair
Highlight products with badges
Promote sales with banners & countdowns
Automate with conditions and scheduling
Try Flair for FREE
Other FAQs
Can I Have Multiple Domains on Shopify?
Absolutely! Standard Shopify users can add up to 20 domains or subdomains to your Shopify store, in addition to the .myshopify.com domain. And Shopify Plus users can add up to 1,000 domains or subdomains.
Can You Link 2 Shopify Stores Together?
You can't have two Shopify stores on the same account (unless you pay for Shopify Plus). But you can use apps like Multi-Admin and Syncio to synchronize product and customer data across multiple stores.
How Many Shopify Stores Can I Have With One Email?
There is no limit to the number of stores you can have through one email address. However, each store requires a separate Shopify account. You can navigate between your different stores by logging into the Shopify admin.